Posted by Mandy on September 26th, 2011. Filed under:
Chocolate
,
Cookies & Bars
,
Desserts
.
You know how you find recipe after recipe online that you like, you bookmark them and come back to them looking for something yummy to make? Please tell me I'm not the only one out there with a Favorites folder jam packed with recipe after recipe. Anyway, I was in a baking mood one afternoon so I went to my favorites folder in hopes of finding something in my all time favorite combination of chocolate and peanut butter. When I started looking through the recipes, absolutely nothing sounded like something I felt like making. Ever have those days? Well, that was me the day that I made these little boogers. I went through my favorites folder at least a couple times (and it's a BIG folder), but still couldn't find anything like I was looking for. So I gave up, went to my kitchen, and literally threw these bars together. It's really a simple idea, I just took my grandmother's chess square recipe (http://www.thesupermomchef.com/?p=459), used chocolate cake mix instead of yellow, and added some peanut butter into the chess filling mixture. And there you have it, a dessert bar made in chocolate and peanut butter heaven!
P.S. In my eyes, heaven really will be full of all the chocolate and peanut butter treats that I can bare to eat, but they are all calorie free!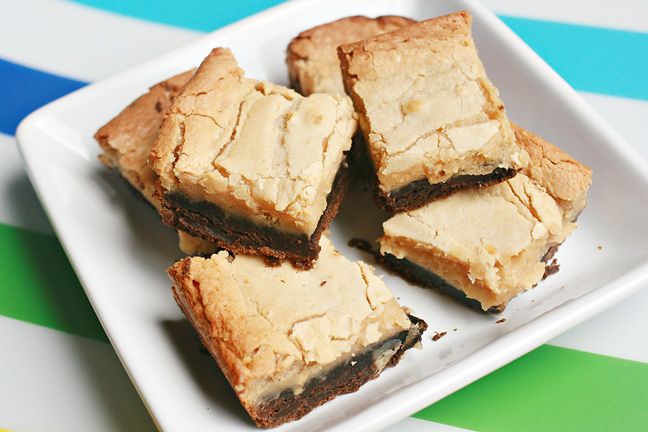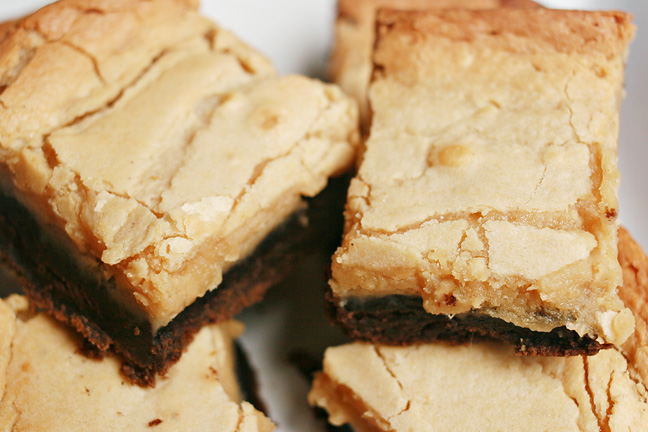 Chocolate Peanut Butter Chess Squares
4 eggs
1 teaspoon vanilla
1 (8 oz) package cream cheese, softened
1/2 cup creamy peanut butter
1 (16 oz) box powdered sugar
1 box chocoloate cake mix
1 stick butter or margarine, softened
Preheat oven to 375 degrees. Mix together one egg, cake mix, and butter or margarine until crumbly. Spread onto a greased 9×13″ baking dish (glass, aluminum, whatever you have). Mix together cream cheese and peanut butter until smooth. Add 3 eggs and vanilla, and mix until fully incorporated. Slowly add powdered sugar; beat until well combined. Bake for 30-40 minutes or until golden brown and set. Allow to cool before cutting into small squares.