Posted by Mandy on February 7th, 2012. Filed under:
Cakes
,
Cookies & Bars
,
Desserts
,
Gifts from the Kitchen
,
Holiday Favorites
,
Snacks
,
Valentine's Recipes
.
Let me just go ahead and get this out there – I'm a huge chess square fan. I've never met a dessert with the word "chess" in it that I don't like. Chess is code word for "awesome stuff", if you ask me. I have had this recipe idea in my head for a long time now. I have made different flavor chess squares in the past (tried my Chocolate Peanut Butter variation yet? http://www.thesupermomchef.com/?p=977). Well I figured you all could use a variation for make for your Valentine. And everyone knows that PINK is the color of Valentine's (and red, but I wanted to make pink ones so just go with it, ok?)
I can't even begin to tell you how delicious these are! Please don't be snotty and say, "OMGAH! There is a boxed cake mix in there," or "You cook with artificial flavoring?" I'm an easy kind of gal and if I can cook something this delicious by using those ingredients then dangit! I'm gonna do it!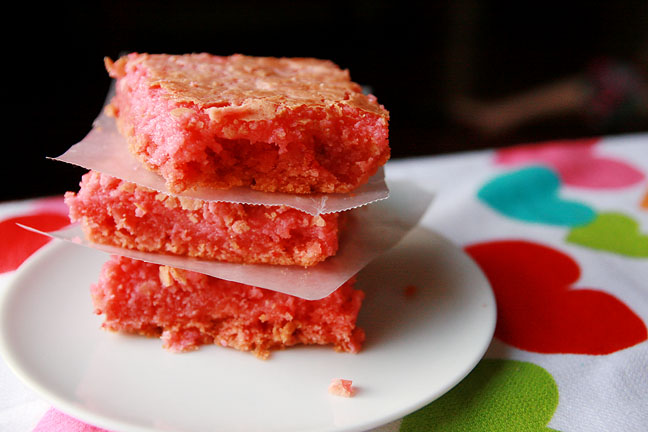 Strawberry Chess Squares
4 eggs
1 teaspoon vanilla extract
1 (8 oz) package cream cheese, softened
1 (16 oz) box powdered sugar
1 box strawberry cake mix
1 stick butter, softened
1 teaspoon strawberry extract
1/2 teaspoon red food coloring, optional
Preheat oven to 375 degrees. Mix together one egg, cake mix, and butter or margarine until crumbly. Spread onto a greased 9×13″ baking dish (glass, aluminum, whatever you have). Stir cream cheese until smooth (using a mixer works well). Add 3 eggs, food coloring (if using) and extracts; mix until fully incorporated. Slowly add powdered sugar; beat until well combined. Bake for 30-40 minutes or until set. Allow to cool before cutting into small squares.