Posted by Mandy on June 21st, 2011. Filed under:
Chicken
,
Main Dishes
,
Pasta
,
Quick & Easy Weeknight Meals
.
A sweet friend of mine sent me this recipe quite a while ago, and there it sat not being made. Every time I made my weekly grocery shopping list and meal menu, I'd think about it and then decide not to make it. It sounded delicious and I honestly don't know why I put it off for so long, because I know first hand that Brittney is a great cook and if she recommended it I knew it would be great. So last week I was at Sam's doing some shopping and saw the rotisserie chickens. I never go in that place and find myself able to resist those delicious chickens. So I grabbed one up and immediately thought of this pasta. I went ahead and shredded the chicken, bagged it up, and stuck it in the fridge for the next night's dinner.
I was happily surprised to see how quickly this all came together. Using the already shredded chicken made it super quick, and cooking the pasta wasn't exactly difficult either.

When I tasted this pasta, I was blown away and immediately regreted not having made it before! I lightened the recipe up slightly by changing the original 1 stick of butter to 4 tablespoons (1/2 stick), while increasing the chicken broth to help keep it moist enough. I also substituted penne for the bowtie the recipe calls for because I didn't have any bowties at the time, and if I remember right I didn't add the salt either because I felt like all of the other ingredients added enough flavor without the added salt. The sauce that makes this pasta is made up of regular ingredients that most every kitchen has, but combined they make the most amazing flavor! I am putting this recipe on our regular rotation from now on!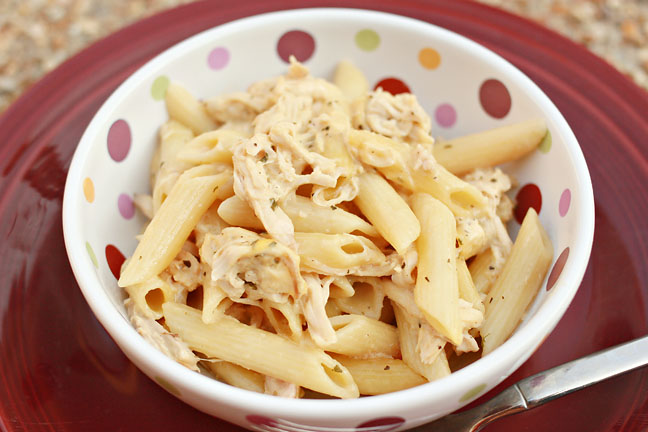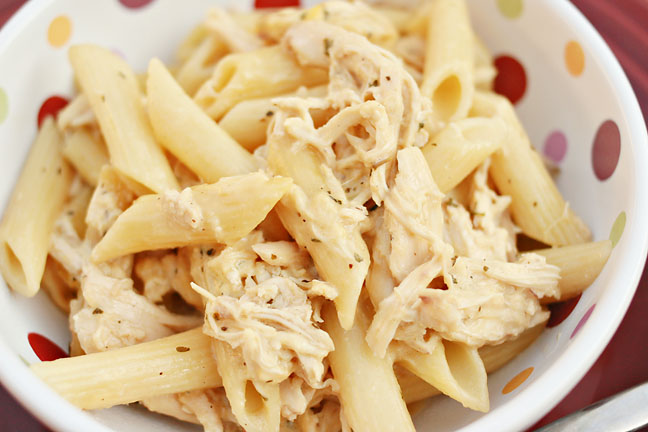 Brittney's Roasted Chicken Pasta
1 (12 oz) package bowtie pasta, cooked
1 (8 oz) package of Velveeta cheese, cubed
1 rotisserie chicken, shredded
4 tablespoons butter or margarine, melted
1 tablespoon Worcestershire sauce
1 tablespoon lemon juice
1 tablespoon dried parsley flakes
1 tablespoon black pepper
1/2 teaspoon dried basil
1/4 teaspoon garlic powder
1/4 teaspoon thyme
1 teaspoon salt
3/4 cup chicken broth
Preheat oven to 350 degrees F. Place pasta in a glass 9×13″ baking dish.  Combine melted butter, Worcestershire sauce, lemon juice, parsley flakes, black pepper, basil, garlic powder, thyme, salt, and chicken broth. To baking dish with pasta, add cubed Velveeta, chicken, and butter mixture. Stir to combine. Bake for about 20 minutes or until heated through and cheese is melted, stirring once. Freezes well.