Posted by Mandy on October 4th, 2012. Filed under:
Appetizers
,
Main Dishes
,
Quick & Easy Weeknight Meals
,
Seafood
,
Slow Cooker
,
Soups & Stews
,
Vegetables
.
Do you remember the delicious recipe I shared a while back for Brittney's Pasta (http://www.thesupermomchef.com/?p=825)? Well, Brittney's done it again…shared another delicious recipe with me to share with all of you! Back in January, Brittney sent me this recipe for Crawfish Bisque and it sounded absolutely delicious. When I got this recipe from her, though, my hubby was about 5,000 miles away in Alaska working. Since I thought the bisque would be too spicey for the little ones, I kept putting off making it (too much for me to eat myself) and every time the hubs would come home I'd forget to make it for him to share with me. Then a couple weeks ago I thought about this soup again out of the blue. And I just knew I had to make it!
I actually now regret waiting so long to try it. Not only did the hubby eat it and love it, but he took some to his parents house to eat one day for lunch and they were able to taste it and love it too! My 6 year old daughter couldn't get enough of it and asked for the leftovers for dinner the following three nights!
I'll be honest, I used the full two tablespoons of spice and it was a bit spicey for me. I think next time I'll start with just one tablespoon and let others add extra spice to their own taste. Because of this, I changed the recipe to say 1-2 tablespoons Creole seasoning. I also cut the butter back a little bit and added some broth to thin the soup out slightly. The recipe I got from Brittney didn't specify whether or not to drain the corn, so I drained the corn and added broth to thin the bisque slightly. I also cooked my crawfish just before adding it to the soup, since the recipe didn't specify whether or not to cook it first. We served ours with some warm bread and everyone gobbled it up quickly and went back for more. I think you guys are going to love this one! Thank you again to Brittney for being kind enough to share her recipes with me!
P.S. If you have a recipe that you think I'd like to share with my readers (and you wouldn't mind me sharing it), please feel free to e-mail it to me at mandy at thesupermomchef dot com. (Excuse the way I have to write the e-mail address…I really don't feel like sorting through a bunch of useless internet spam in my inbox tomorrow morning.)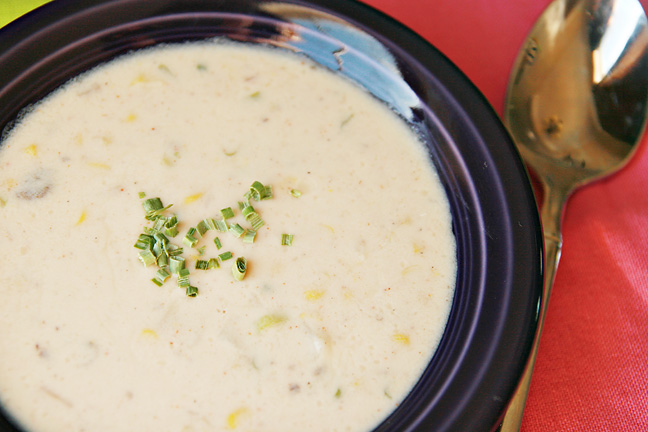 Brittney's Easy Slow Cooker Crawfish Bisque
1 pint half and half
4 oz. Velveeta cheese, cubed
4 tablespoons butter, cubed
1 bunch green onions, chopped
2 cans cream of potato soup
2 cans cream of mushroom soup
2 cans whole kernel corn, drained
1-2 tablespoons Tony Chachere's Creole Seasoning
2 cups vegetable broth
1 package frozen crawfish tails, thawed
Add all ingredients except crawfish to a slow cooker and cook on low for 4-6 hours. Shortly before bisque is done, saute crawfish tails in one tablespoon butter until cooked through. Add to bisque, stirring to combine well. Serve with garlic bread.