Posted by Mandy on February 23rd, 2011. Filed under:
Appetizers
,
Condiments
,
Dips
,
Mexican
,
Salsas
,
Uncategorized
.
My husband is EXTREMELY picky when it comes to his salsa. At every Mexican restaurant we go to, he has some complaint about their salsa. It's either too chunky, has too many onions, isn't salty enough, etc. Well for Christmas last year I bought myself a food processor. Hard to believe that as much as I cook I've never had a food processor, isn't it? Well, since I finally got one I could finally make Matt some salsa that he (hopefully) would like. Let me just tell you that not only does he love this salsa, but he loves it so much that he gets grumpy if there isn't any in the refrigerator when he wants some. It's THAT good! And the best part about it is that it makes a whole lot, and you can make it as chunky or thin as you like it! I know a lot of you have been waiting on this particular recipe for a while now, so without holding out on you any longer, here it is!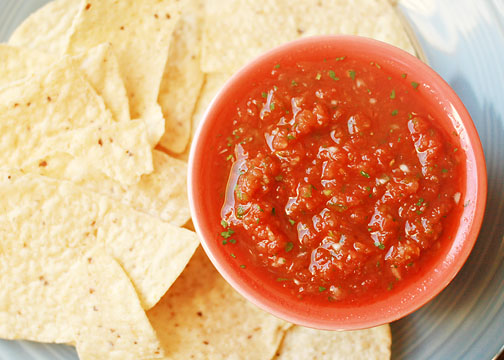 Restaurant Style Salsa
1 (28 oz) can whole tomatoes with juice
2 (10 oz) cans Rotel
1/4 cup chopped onion
1 clove garlic, minced
1 whole jalapeno, quartered & sliced thin
1/4 teaspoon sugar
1/4 teaspoon salt
1/4 teaspoon cumin
1/2 cup cilantro (or more to taste)
juice of one whole lime
Combine whole tomatoes, Rotel, onion, jalapeno, garlic, sugar, salt, cumin, lime juice, and cilantro in a blender or food processor. Pulse until you get the salsa to the consistency you'd like—I do about 10 to 15 pulses. Test seasonings with a tortilla chip and adjust as needed.
Refrigerate salsa for at least an hour. Serve with tortilla chips or cheese nachos.
Recipe from: http://thepioneerwoman.com/cooking/2010/01/restaurant-style-salsa/