Posted by Mandy on February 4th, 2012. Filed under:
Appetizers
,
Dips
,
Mexican
,
Salsas
,
Snacks
.
I'll be short with tonight's post because it's Friday night and I'm probably the only one east of the Mississippi that's not got something exciting going on. *sigh* This is one of those recipes that, without a doubt, pleases everyone. I've never met a person that doesn't enjoy a good bowl of Mexican cheese dip at their favorite local restaurant. In order to keep from going broke buying my kid's their needed supply of this stuff, I needed to find a way to make it at home. This is our family's favorite, but feel free to add/remove ingredients to your liking. Oh, and make this for your Super Bowl party on Sunday…you know it's totally typical football food and positively needs to be on the table/buffet. Oh, and if you know what's good for you, serve it right beside this (http://www.thesupermomchef.com/?p=555) homemade salsa. Dip in the cheese dip first, then salsa, then devour. All kinds of deliciousness, YUM!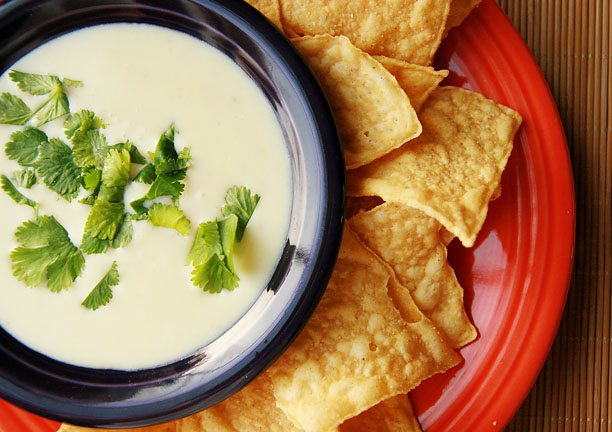 Mexican White Cheese Dip (Queso)
1/2 pound white American cheese, cubed
1/2 – 1 cup milk
1 small onion, diced
1 jalapeno, diced (leave the ribs and seeds in for more heat)
1 red bell pepper, diced
1 garlic clove, minced or chopped
1 tablespoon oil
snipped fresh cilantro, for garnish
Place a medium size saucepan over medium-high heat; add oil. Add onions and peppers, and saute until the onions are translucent and peppers are softened. Add garlic and cook until fragrant. Add cubed cheese and milk (start with 1/2 cup and add additional milk to desired thin-ness), stirring often, until completely melted. Serve hot with freshly snipped cilantro for garnish, if desired.