Posted by Mandy on December 22nd, 2010. Filed under:
Candies
,
Cookies & Bars
,
Desserts
,
Holiday Favorites
,
Kids Can Help
,
Uncategorized
.
I know that I've said this for every single treat I've posted this week, and this one is no exception. These are absolutely, positively delicious! Oreos, YUM! Cream cheese, YUM! Chocolate, YUM! How could you not love these delicious little balls of yummy goodiness? I am so excited about sharing this recipe with you because it's one my true favorites. Make up a batch today and let your kids help…they will love being in the kitchen with you! And who cares if they don't look perfect?
Oh, and I can't remember the name of the person that shared this recipe with my sister, but I do know that it was one of her clients. Whoever it is that shared it, I'm glad they did because I love these little babies!
Just three items this time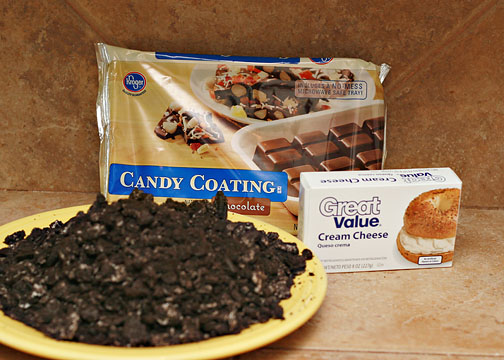 Again here, you can either go the easy route and use a stand mixer to do the hard work for you or you can mix the cream cheese and Oreo crumbles together yourself. I've cooked so much lately that it's a no brainer…I take the easy way out! You'll end up with a mixture that looks something like this.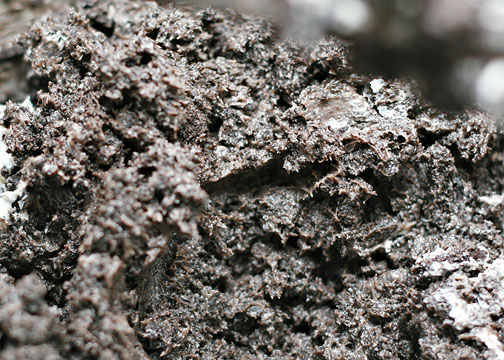 Roll this mixture into small balls (about 3/4″). Don't get grossed out here. They don't look good at this point, but I promise you that they are!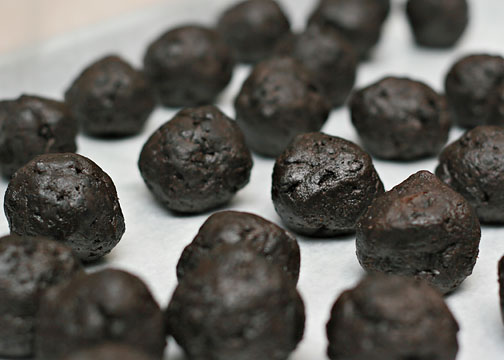 Refrigerate them at this point, so that they can harden somewhat. I probably refrigerated mine for about one hour or so. Then melt your chocolate, dip each ball and return to the sheet pan and refrigerate again until hardened.
Oreo Truffles
1 (16 oz) package Oreo sandwich cookies
1 (8 oz) package cream cheese, softened
1 package chocolate flavored almond bark or candy melts
Line a sheet pan with waxed paper. Crush Oreo cookies using a rolling pin or meat tenderizer. Mix together Oreos and cream cheese until well combined. Roll into 3/4″ balls and place on waxed paper. Refrigerate for one hour. Melt chocolate according to package directions. Roll each ball in the chocolate and return to sheet pan. Refrigerate until chocolate has hardened. Store in the refrigerator until ready to serve.