Posted by Mandy on August 13th, 2012. Filed under:
Chicken
,
Kids Can Help
,
Main Dishes
,
Mexican
,
Quick & Easy Weeknight Meals
,
Rice
,
Salsas
,
Sandwiches
,
Wraps
.
I know, I know, it's been far too long. I won't go into detail, but we've been dealing with some tough issues around our house (and no, we are NOT having marital problems…just making that clear before the rumor gets started). Though I didn't anticipate it happening, the blog suffered because of this and for that, I apologize. I can't promise that I will be posting a whole lot in the upcoming few weeks and months but I promise I will do my best. In the meantime, please be patient with me and continue follow along with my recipes if you'd like.
Now onto the long awaited burrito recipe. I've told you of my love for the restaurant Chipotle on previous posts. I long for their burritos so bad, but unfortunately only ever get to indulge in one on our trips up to Boston for my son's surgeries. So my momma always taught me to "make-do" and "make-do" I do by preparing a homemade burrito similar to the yummy one at their restaurant. Now I won't go so far as to call this a copycat recipe, because it's certainly not. I simply make a couple of the different components that I like in my burrito from Chipotle, and go from there.
If you are a stay-at-home mom, this is a great recipe to have on hand for quick dinners. My favorite thing to do is to make all of the separate components (rice, corn salsa, chicken) on a Monday and simply reheat the components that need it every day for lunch until I run out. It's cheap, delicious, and quick. You can't beat that!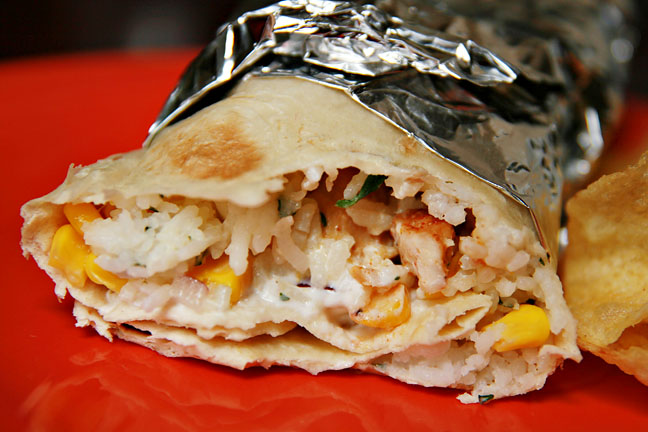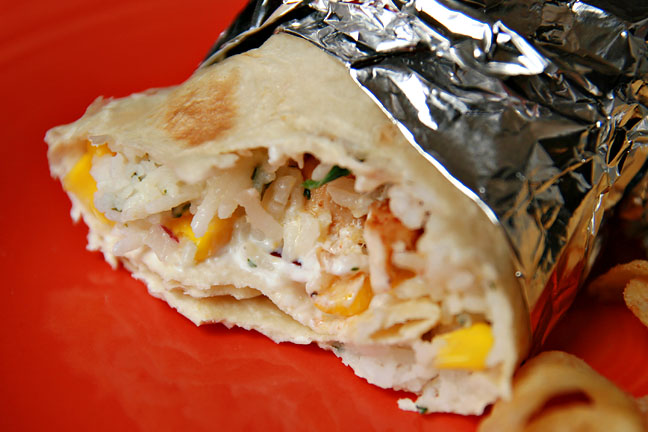 Chicken Burritos
1 recipe Almost Famous Corn Salsa (http://www.thesupermomchef.com/?p=1331)
1 recipe Cilantro Lime Rice (http://www.thesupermomchef.com/?p=1336)
burrito size flour tortillas
2-3 chicken breasts
salt, to taste
chipotle chili pepper, to taste
olive oil
assorted burrito fillings, as desired (ie sour cream, salsa, shredded cheese, guacamole)
Place a large skillet over medium-high heat. Rinse chicken and cut off all remaining skin and/or fat. Cut into small cubes; dry thoroughy. Sprinkle with salt and chipotle chili powder. Be careful adding the chili powder as it's very spicy. Start by adding a small amount to the raw chicken and, if after cooking, you'd like yours spicier add more. Add a teaspoon of olive oil to the hot skillet, and allow olive to warm through; add chicken cubes. Continue to cook over medium-high heat until cooked through, stirring several times. Remove from heat and set aside. Warm burrito as desired. Top with rice, corn salsa, chicken, and other desired fillings. Roll up, burrito style, and wrap in foil (this makes it easier to hold together while you are eating). Serve immediately.