Posted by Mandy on May 4th, 2012. Filed under:
Appetizers
,
Mexican
,
Salsas
,
Snacks
,
Vegetables
.
I think that I have shared with you all before about my son's illness, and how we regularly travel from Mississippi to Boston for his many medical procedures. Well, let me just tell you that spending time in the hospital the entire we're up there doesn't leave time for much fun. But let me also tell you that you shouldn't feel sorry for me while I'm there. Know why? Because it's guaranteed that I will get to enjoy my favorite burrito from Chipotle at least a handful of times while I am there (except our last trip, during which time I almost didn't get one at all but scarfed one down for dinner our last night despite the fact that I was not even the least bit hungry). Seriously, I crave these things ALL THE TIME! They are that good! You can have your taco bell and I'll live happily here on out with my Chipotle, thankyouverymuch!
So far, despite my pleading and begging to the big dogs at Chipotle, I haven't been able to persuad them to open one here. So until I'm able to convice them, making my own substitute will just have to do. *sigh*
Luckily, the work of recreating their delicious corn salsa (one of the different selections among many that you can choose to top your burrito/bowl) has already been done for me by the staff at Food Network. Imagine my surprise when I opened the newest copy of Food Network magazine and found their "Almost Famous" recreation of the ever-popular salsa. You can bet I immediately made it too! Of course, that was months ago and I'm just now getting around to sharing the recipe with you all. But whatever…don't hate me!

What better excuse than Cinco de Mayo!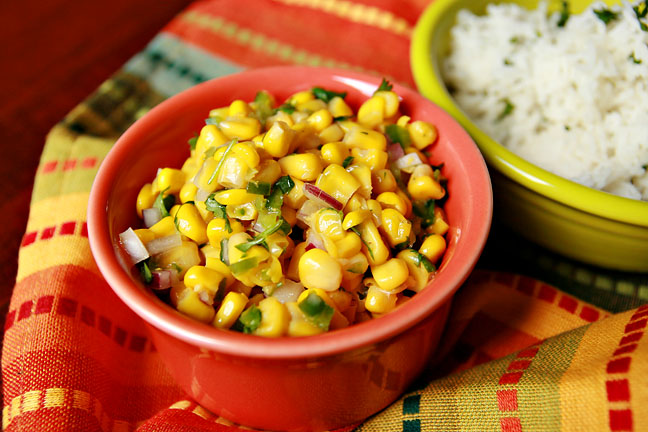 Almost Famous Corn Salsa (Chipotle)
1 jalapeno pepper, seeded and chopped
3 teaspoons extra virgin olive oil
kosher salt, to taste
1 can whole kernel corn, drained
2 tablespoons chopped fresh cilantro
2 tablespoons chopped red onion
2 tablespoons fresh lime juice
1/2 teaspoon sugar
Mix all ingredients together, stirring to combine. Season with salt, to taste. Serve with corn chips or on/with your favorite tex-mex dish.