Posted by Mandy on January 25th, 2012. Filed under:
Appetizers
,
Brunch
,
Condiments
,
Dips
,
Greek
,
Main Dishes
,
Quick & Easy Weeknight Meals
,
Sauce
,
Snacks
,
Southern Classics
,
This & That
,
Wraps
.
There's this restaurant in Jackson, MS, which shall go nameless so that I don't accidentally infringe on any kind of copyright or tradmark issues, but I tell ya what…they have the BEST pitas that have ever been made. And judging by the huge crowd there every single day at lunchtime (I'm not brave enough to go there at night – EEK!) I'm not the only one that feels this way. With most of their pitas, they serve what they refer to as feta sauce. This stuff is seriously dangerous! Dangerously delicious! I always order a turkey pita, which comes with said feta sauce slathered on it already but that's not enough…I must order extra on the side to satisfy my craving. Eating it on your pita is a given, but it's every bit as delicious eaten with their extra delicious cottage fries as well. Top your favorite Greek salad with this favorite sauce and you'll be singing praises again! Dip your crackers in it, eat it by the spoonful, who cares! It's just that dang good and I'm not ashamed to admit that I've eaten it every way I just described.

Well since this restaurant is a good 35 minutes away from my home, and since it's served in a restaurant that's not exactly the most kid-friendly place (not much on the menu for children), we rarely get to dine there. On the rare occassion when I'm in the area and my sister is off work we get to drop by but that's usually once in a blue moon (is there really such a thing?) So I decided that it was high time I decided how to make something similar at home. Now I'm not gonna go all crazy here and tell you this is "the recipe" because goodness knows it certainly isn't. I took a recipe I found online claiming to taste just like it (which tasted not much like it, in my opinion) and made it over and over until I came up with something much more similar to the original. At least in my opinion. Like I said, though, I'm making no claims here as to it being authentic feta sauce, but it dang sure cures the cravings for me when I can't make it to the restaurant for my favorite pita. So here ya go folks! Let me know what you think.

P.S. Stay tuned for a yummy Chicken Gyro recipe to serve this delicious sauce on top of!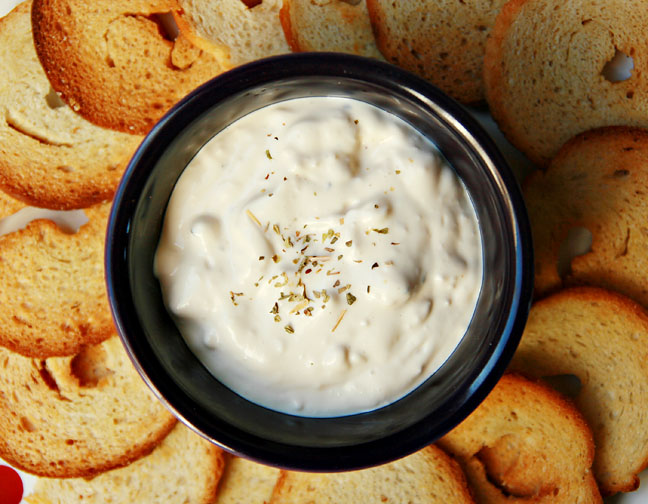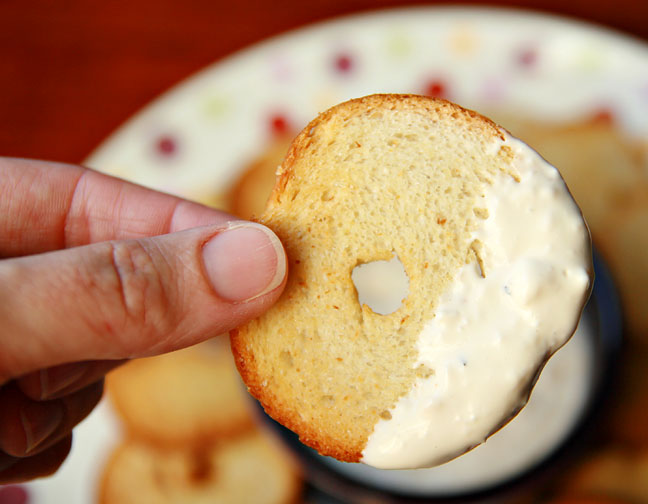 Homemade Feta Sauce
1 1/2 cups mayonnaise (use the real stuff for this, folks!)
1 cup crumbled Feta cheese
1/4 cup red wine vinegar
1/2 clove garlic, minced
1 tablespoon Worcestershire sauce
1 tablespoon olive oil (or more, depending on how thin you like your sauce)
pinch of dried basil
pinch of dried oregano
In the bowl of a manual food processor (DO NOT use an electric food processor, it will chop the Feta up too small), mix together the mayonnaise, red wine vinegar, garlic, Worcestershire sauce, olive oil, oregano, and basil. Process until completely combined. Add Feta; process a few times until the cheese is evenly distributed but not completely broken down into tiny pieces. You want some bigger pieces of Feta left in the mixture. Chill until ready to serve with crackers, on fries, or on your favorite pita or gyro.
Recipe adapted from: http://livbites.com/2010/03/26/a-dip-and-a-dressing-just-like-home/