Posted by Mandy on August 31st, 2012. Filed under:
Breads
,
Chicken
,
Greek
,
Grilling
,
Main Dishes
,
Sandwiches
,
Sauce
,
Vegetables
,
Wraps
.
Remember the Feta Sauce recipe that I posted a while back (http://www.thesupermomchef.com/?p=1235)? And remember the promise that I made in that post to post later on the recipe for a delicious pita to go along with it? Yep, I completely forgot to write up that post for you. It's no biggie, because of course you could throw just plain grilled chicken on top of a pita and slather it with that yummy Feta Sauce and it'd still be absolutely delicious. But this chicken is marinated in a "Greek-y" marinade that adds even more flavor to the delicious pita.
Usually the typical sauce for a pita and/or gyro is tzatziki sauce, but being from around central Mississippi we all know that Feta Sauce is a must. Not that tzatziki isn't good, but come on now…we are all hopelessly addicted to the Feta Sauce at a local restaurant around here. So make you one at home when you're getting the craving the next time and save that trip to Jackson (gas is expensive!) and the money the pita costs. You won't be disappointed!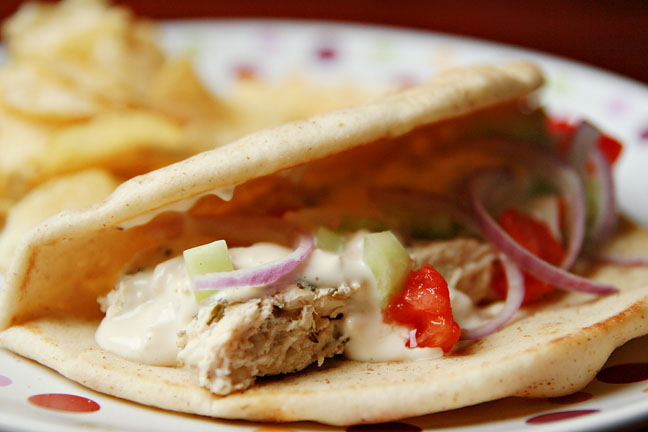 Greek Chicken Pita
For the chicken:
4 cloves garlic, smashed
juice of 1 lemon
2 teaspoons red wine vinegar
2 tablespoons extra virgin olive oil
2 heaping tablespoons plain yogurt
1 tablespoon dried oregano
salt & pepper, to taste
1 1/4 pounds boneless, skinless chicken breasts or chicken tenders
Combine the garlic, lemon juice, red wine vinegar, olive oil, yogurt, oregano, and salt and pepper in a medium bowl. Whisk together until fully combined. Add the chicken and mix well to coat. Cover and refrigerate for about an hour. Grill in a preheated grill pan, and allow to cool for a couple of minutes before slicing into strips.
For the pita:
red onion, sliced
tomato, seeded & diced
cucumber, seeded & diced
shredded lettuce
*pocketless pita bread
prepared chicken (recipe above)
prepared Homemade Feta Sauce (recipe to be found here: http://www.thesupermomchef.com/?p=1235)
Warm pita following package directions. Top with prepared veggies, sauce, and chicken as desired. Serve warm.
*Note: Make sure to purchase pocketless pita bread. If you can't find it, you can substitute a flat bread wrap, tortilla, or pretty much anything else for this recipe. Whatever you do, do not use that dried out stuff they call "pita bread" that is so widely available in supermarkets now. It tastes like cardboard, quite frankly.
Chicken recipe adapted ever so slightly from: http://annies-eats.com/2009/06/02/chicken-gyros/