Posted by Mandy on September 23rd, 2011. Filed under:
Chicken
,
Grilling
,
Kids Can Help
,
Main Dishes
,
Pasta
,
Quick & Easy Weeknight Meals
,
Seafood
,
Shrimp
,
Vegetables
.
In honor of my hubby whose 30th birthday is tomorrow, I'm posting his favorite meal of all the things I've ever made. And wouldn't you know it would be something simple like alfredo sauce? Time and time again I realize that my family is so simple, that they really just prefer basic meals to eat rather than the fancy dishes that seem to be so popular now. Don't get me wrong, we still love the occassional "fancy" meal from time to time (at least the hubby and I do), but for the most part the whole family seems to enjoy the simple classics the most. When I make this dish, I usually grill up some chicken (for the kids) and some shrimp (for me and hubby) to go on top, steam some broccoli, and there you have the world's simplest, quickest, most delicious dinner!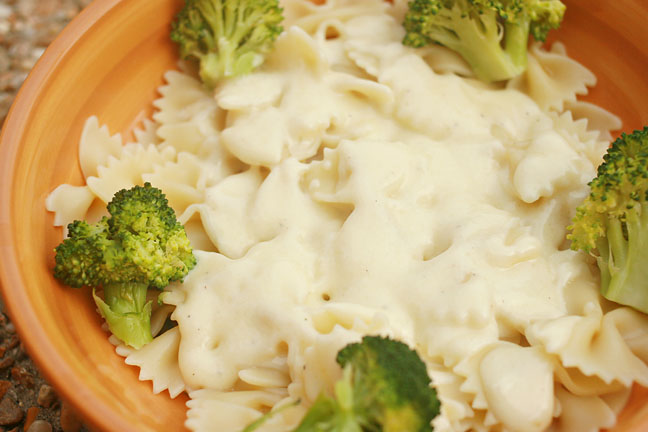 While I was taking this picture (yes, it's outside in my driveway…not ideal but with hungry kids standing by waiting on their food it was the best I could do), I realized that I left something inside. So I asked my 7 year old to come sit by the dish to make sure a stray dog didn't eat any of the food. Turns out, it wasn't a dog I needed to worry about! The photo below is what I came back to. That boy was hungry so he had to dig in!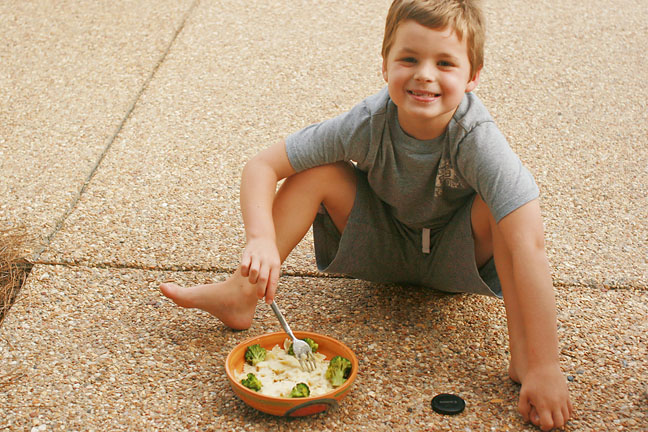 Homemade Alfredo Sauce
1/2 cup (1 stick) butter or margarine
3/4 cup freshly grated Parmesan cheese
1 clove garlic, finely chopped
1/2 cup heavy whipping cream
1/2 teaspoon salt
dash of black pepper
Heat butter and whipping cream in a 10″ skillet over medium-high heat, stirring frequently, until butter is melted and mixture starts to bubble. Add garlic. Reduce heat to low and simmer for a few minutes, stirring often, until thickened slightly. Remove from heat; stir in cheese, salt, and pepper. Serve with 8 ounces of cooked, drained noodles.
*Note: Here is how I cook my shrimp http://www.thesupermomchef.com/?p=881