Posted by Mandy on July 29th, 2011. Filed under:
Appetizers
,
Grilling
,
Main Dishes
,
Quick & Easy Weeknight Meals
,
Seafood
,
Shrimp
.
Grilled shrimp sounds simple enough, right? So then why can't many restaurants get it right? I mean, if you work in a restaurant as a chef of all things, you should know how to cook grilled shrimp in my opinion. But I find that time after time, restaurants don't even cook it right. I have even gone to one locally owned restaurant that is very well known for their seafood, ordered grilled shrimp, and sent it back because it had absolutely NO flavor at all. Now I'm not one to send food back often, but when you are paying almost $30 for a few grilled shrimp and a salad it dang sure outta have some kind of flavor!
Most often when cooked at home, people cook the shrimp for far too long, resulting in rubbery shrimp. When I was growing up I remember my mom boiling shrimp for a long, long time each time she cooked it. It wasn't until later that my mom found out that shrimp cooks in a matter of just minutes.
Now I'll be the first to tell you that this shrimp is nothing out of the ordinary. It's got no spectacular special ingredients. It doesn't deserve any culinary awards. But it's just a delicious, basic grilled shrimp recipe. If you're feeling particularly saucy one night, add in another spice to add the flavor or change it to suit your meal for the night. You can also cook this grill whichever way you prefer, either on a regular outdoor grill or in a grill pan indoors. I have cooked them both ways, and strangely enough my hubby seems to prefer the indoor version better. Whatever works for you though; take this recipe and make it your own!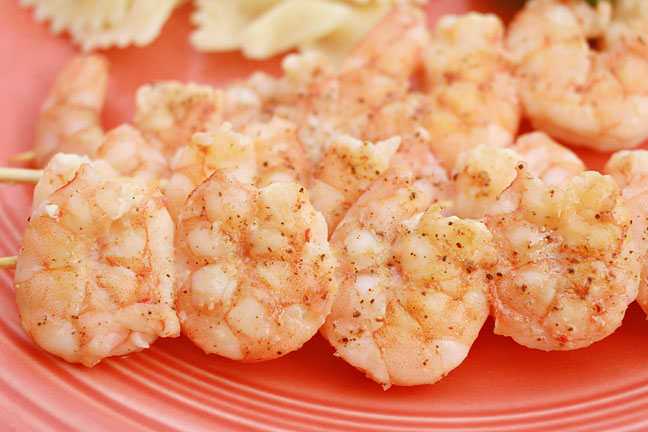 Yes, that would be my driveway you see the shrimp plate sitting on. I was in a hurry that day because I had hungry kiddos waiting for their food!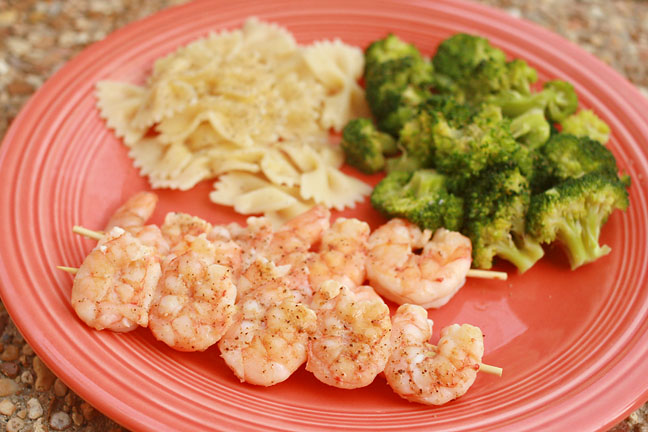 Grilled Shrimp
peeled & deveined shrimp (amount will depend on how much you need to cook)
salt
pepper
garlic powder
olive oil
Preheat grill (or grill pan) over medium-high heat. Rinse and dry shrimp. Place on skewers (if using wooden skewers on a regular grill remember to soak them in water before using). Lightly brush or spray the shrimp skewers with olive oil on the first side. Sprinkle with salt, pepper, and a small amount of garlic powder. Flip the skewers over and repeat the olive oil, salt, pepper, and garlic powder on the second side. Grill over medium-high heat until the shrimp are opaque, about 3-5 minutes, depending on your heat source.