Posted by Mandy on October 20th, 2010. Filed under:
Appetizers
,
Breads
,
Breakfast
,
Holiday Favorites
.
That's a pretty bold statement, but I really mean it…never in my life have I ever tasted a sausage ball that is quite this good. And trust me, I've tried a lot. If I'm at a party and see sausage balls, I can't help but grab a few and I'm always disappointed. They just never quite have the flavor that these do. You know how food has a way of bringing back memories? Well these take me back like nothing else can. When I think of these I remember my sweet, sweet grandmother Mae Mae who always made these. I still remember the Tupperware container (the green one with a whitish lid that is made for storing celery) that she'd store them in the refrigerator. We'd come in after school and heat up a few (okay, so maybe it was like 10, HA!) and pour us a big huge glass of sweet tea. I no longer even drink sweet tea much but when I'm eating these, it has to be with a big glass of nothing BUT sweet tea. What I wouldn't give to share another afternoon at my Mae Mae's, telling her about the going-ons of school while sharing this snack. She missed meeting my first child by just 3 weeks and 4 days, but I know that she is looking down on me each and every day. I'm sure she's smiling down as I bake these in the oven and think of her.
Speaking of…so many foods bring back memories for people. I'd love to hear some of your stories and recipes that have these same emotions for you. Please post a comment or shoot me an e-mail to mandy@thesupermomchef.com. I may just find that your recipe is so delicious that I need to blog about it here!
Now onto the reason why you are really here. Sausage balls. You'll see many recipes out there that call for numerous other additions but trust me, no addition is needed. These three ingredients pack enough flavor in these little balls!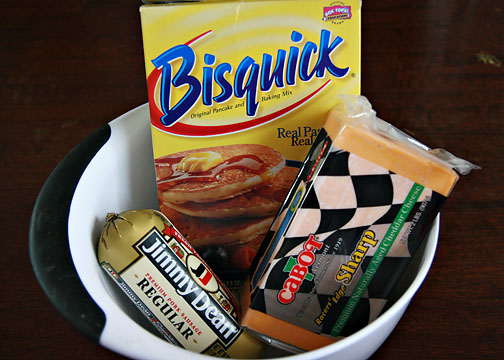 Feel free to use whatever kind of sausage and cheese you'd like. These were the items that were on sale at my grocery store so that's why I went with these particular flavors. It's also delicious to use half regular sausage and half hot. That gives them a little more spice. Pour all of your ingredients into a bowl and using your hands (trust me, a spoon won't work) mix them all together. It's best to sit down and do this because it's going to take a while. In the photo below that my sweet sister took (thanks, Meg!) I was sitting on the couch and watching the Food Network while mixing.

Make sure to use a pretty big bowl too or else you'll end up with baking mix all over the place.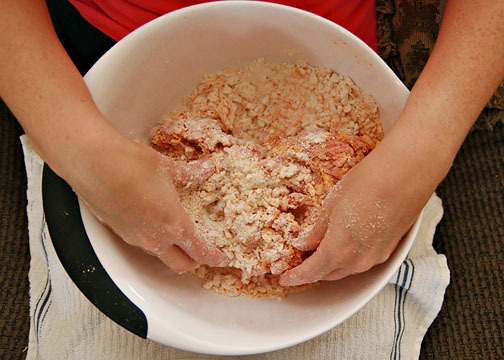 You'll eventually end up with a huge ball of sausage dough that looks something like this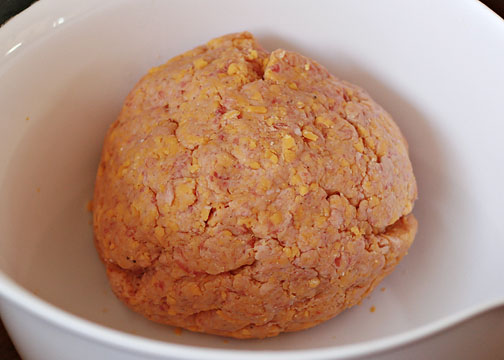 This is the point where I usually preheat my oven. If you preheat it before you start, you'll end up having it on a long time and let's face it…down here in the South you don't want to run an oven any longer than you have to. It's hot enough already! Gather your baking sheet. I usually use my stoneware for this because it seems to keep the balls from getting too crispy. A regular baking sheet would work, though, if that's all that you have. Whatever you use, make sure it has rimmed edges. Just trust me on that one. You DON'T want to make the mistake that I did. These babies will definitely drain off some grease and you want something there so that it doesn't run off into your oven leaving a mess that will take you forever and a day to clean up. Pinch off your dough and roll each pinch into a tightly rolled ball, about 1 – 1 1/2″ in diameter. Place on a baking sheet side by side. It's okay, and actually ideal, if they touch.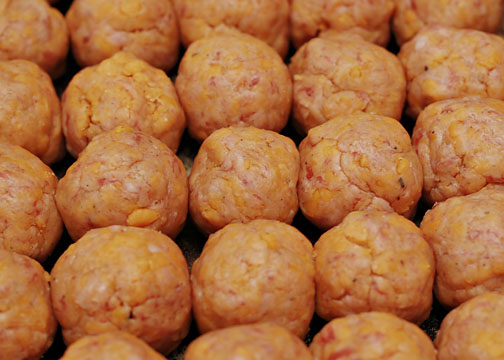 Bake at 350 degrees until golden brown and sizzling.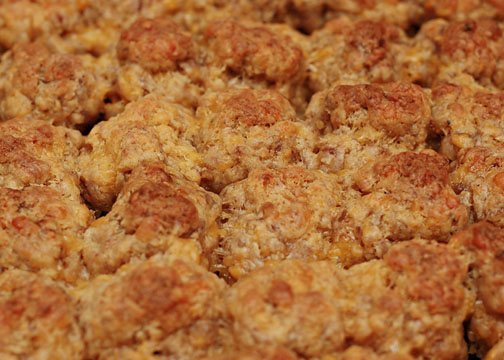 Now this is the hard part. Trying to keep my kid's little finger off these puppies until they've had time to cool off just slightly. They see this pan sitting on the stove cooling and they just want to dive right in! They are so good that they just can't help themselves. Honestly, I can't either so I sneak a ball or two and have them right away when they kids aren't looking. Bad Momma! After about 5 minutes or so, remove them to a plate or serving platter to cool completely before refrigerating. Since I don't have a perfect little Tupperware dish like Mae Mae did, I usually just throw mine in a zip-close bag. Pull them out as you need them and microwave for a few seconds. They taste just as good as when you just cooked them!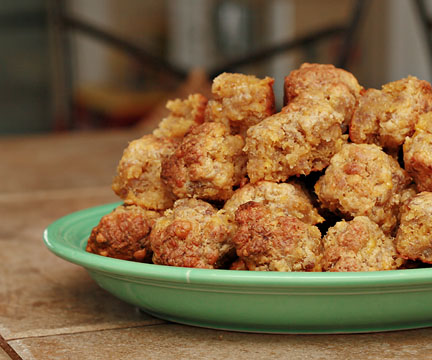 Sausage Balls
1 pound breakfast sausage (your choice of flavor – hot or mild)
1 pound cheddar cheese, freshly grated (DO NOT use the pre-shredded)
3 cups Bisquick baking mix
Mix all together and roll into 1″ balls. Bake at 350 degrees until golden brown.