Posted by Mandy on June 16th, 2011. Filed under:
Appetizers
,
Bacon
,
Breads
,
Snacks
,
Southern Classics
,
This & That
.
Here in the deep South, it's very rare that you attend a gathering where there isn't some sort of finger sandwich tray. We love our sandwiches down here, but what we love even more is tiny sandwiches that are filled with yummy things like bacon and cheese. What's not to love? Every good Southern cook knows that the secret to keeping finger sandwiches moist between assembling and serving is to cover them with damp paper towels, and to check the paper towels ever so often to make sure they are still damp and, if not, to dampen them again. Nobody likes finger sandwiches made out of dried out bread. I like to use my electric knife (okay, so really it's my dad's fish knife that he never used but it does the job!) to cut the crusts from the bread and then slice the sandwiches into three rectangles for serving. I also make my filling a day ahead of time if I have a lot to do the day of serving, and store the cream cheese mixture in the fridge overnight. Take the mixture out a couple hours before you are ready to spread on the bread slices, because you certainly don't want to try and spread firm cream cheese over bread. I learned my lesson the hard way on that one. So go on and plan a party at your house just so you have an excuse to make these yummy sandwiches. Your friends will love you for it, this I promise you!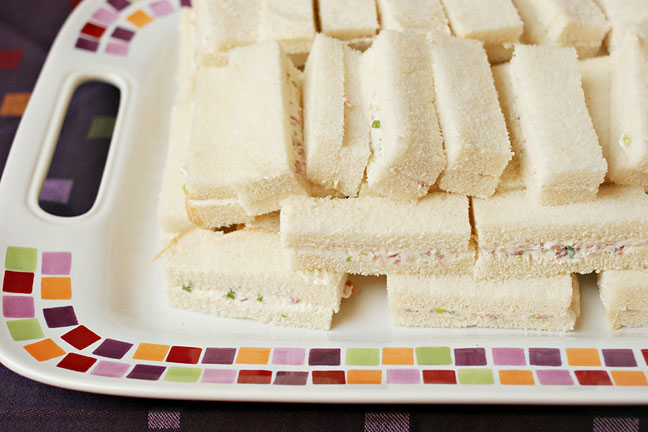 Bacon & Onion Finger Sandwiches
2 bunches green onions, thinly sliced
1 (3 oz) package real bacon bits*
2 (8 oz) packages cream cheese, softened
1/2 cup mayonnaise
1 teaspoon Worcestershire sauce
dash salt
Mix together cream cheese, mayonnaise, and seasonings. Add bacon and onion and mix well. Spread on crustless white bread and cut into small rectangles or triangles for serving. This recipe will spread 2-3 loaves of white bread.
*One pound bacon, cooked & crumbled, can be substituted for the bacon bits, if desired.