Posted by Mandy on May 16th, 2011. Filed under:
Appetizers
,
Dips
,
Snacks
,
Southern Classics
,
Vegetables
.
Did you guys miss me the last couple of weeks? Sorry for not posting, but at least I have a good excuse. I was in Boston with my little HERO (my son) while he underwent numerous procedures and his 17th surgery. We had access to a kitchen, but needless to say cooking was not high on my priority list while there. Not that we even had a way to cook much while we were there, but even if we did I am sure I still wouldn't have gotten much cooking time. So I'm back now, at least for a while until we head back again for another surgery.
This recipe is about as old as dirt and there are about a million different variations of it out there, under about the same amount of names. I can remember seeing my mom make this for the first time and thinking, "My goodness that looks awful!" But as soon as I tasted it, I was completely sold! This is one of those recipes that just sounds disgusting when you read it, but when you taste it you want to kick yourself for never having made it before. And it makes a TON so it's the perfect thing to make and take to a gathering where there will be lots of people. I made it for Easter and had so much of it I had to throw some away before heading out of town. It also stays good for quite a while so feel free to save any leftovers for snacks later in the week.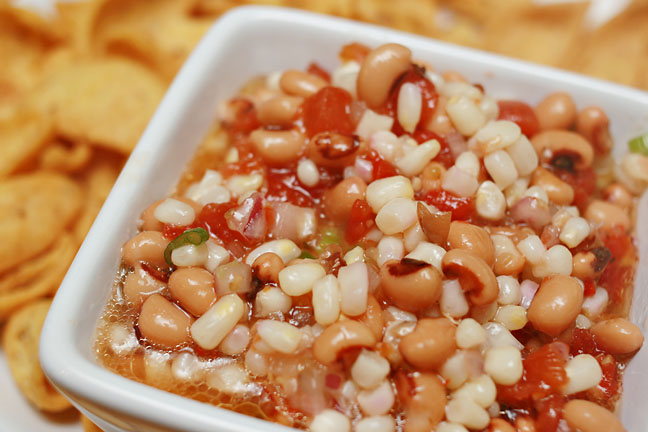 Mississippi Caviar
2 cans Bush's blackeyed peas, drained
2 cans shoepeg corn, drained
1 can Rotel
3-4 green onions, chopped
1/2 red onion, chopped
1 (16 oz) bottle zesty Italian dressing
Mix all ingredients together; serve with corn chips. This dip gets better the longer it sits, so feel free to make it a couple days before you are ready to serve it.