Posted by Mandy on April 6th, 2011. Filed under:
Appetizers
,
Kids Can Help
,
Snacks
,
This & That
.
Catchy name, right? My smart little brain came up with that one all by myself because the title of this recipe says it all…one bite of this delicious, crunchy, ranchy (yes, that's a word…at least in my world) snack mix and you'll be forever unable to stop yourself from grabbing "just one more" handful. My mom shared this recipe with me, and OHMYGOODNESS I'm still mad at her for doing so. Yes, it's a delicious recipe but dangit I just cannot stop from eating it once I start! Now it's your choice whether to heed my warning or not. I vote you pay no attention to it, make it anyway, and find yourself in my shoes, unable to stop!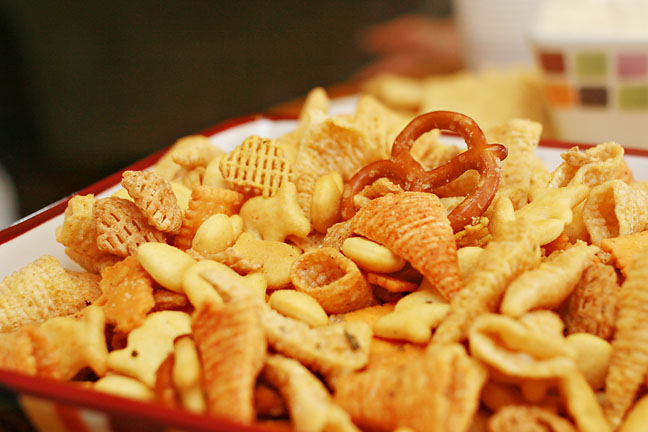 "Consider Yourself Warned" Snack Mix
6 cups original Bugles
8 cups nacho cheese Bugles
4 cups Cheese Nips
2 cups miniature pretzels
1 (6 oz) package Goldfish crackers
2 cups Crispix cereal
2 cups lightly salted cashews
2 envelopes dry Ranch dressing mix
3/4 cup butter flavored popcorn oil
In a large bowl, combine Bugles, Cheese Nips, pretzels, Goldfish crackers, Crispix cereal, and cashews. In a separate small bowl, combine oil and dressing mix; pour over cracker mixture and toss with cracker mixture to coat. Transfer to three greased cookie sheets. Bake at 250 degrees F for 40-45 minutes or until crisp, stirring occasionally. Cool on wire racks. Store in an airtight container.