Posted by Mandy on February 3rd, 2011. Filed under:
Candies
,
Chocolate
,
Cookies & Bars
,
Desserts
,
Holiday Favorites
,
Kids Can Help
.
OHMYGOODNESS! If you love the ever-popular peanut butter/chocolate combo as much as I do, then these little bars of heaven are for you. I found this recipe one day while at my moms house. When I'm over there I usually pull out some of her old cookbooks and go through them while we chat. When I saw the list of ingredients on this recipe, I knew right away we'd BOTH be in love (she harbors my same love for the popular combo). I adapted this recipe quite a bit to suit our particular tastes from what I believe was a Southern Living recipe originally, although I can't be sure. Either way, just know that this is one of those recipes you'll want to bookmark, because you're going to be coming back to it over and over and over and over, well…you get the point!
Here's most of my favorite foods on this earth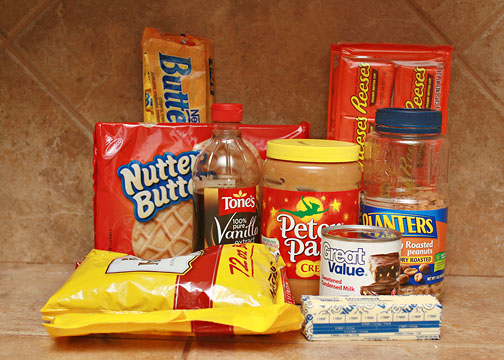 Start by melting the butter in a large, microwave safe dish. While that's melting, crush the cookies. Mix the two together well.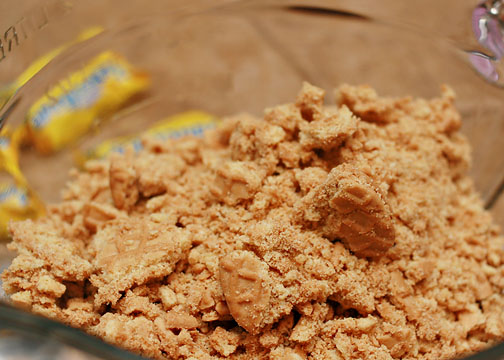 Press the cookie mixture into a 9×13″ baking dish that has been lined with aluminum foil (trust me, it'll make it easier to get them out). Bake at 350 degrees for 8 minutes.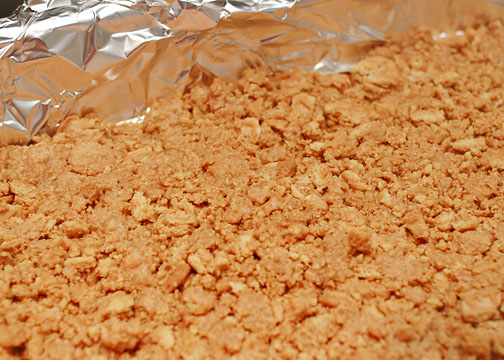 While that's cooking, chop up your candy into small pieces. Here are my Butterfingers!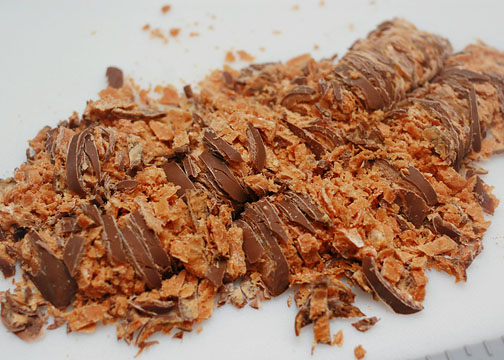 Mix together all of the candy pieces, semi-sweet chips, and roasted peanuts.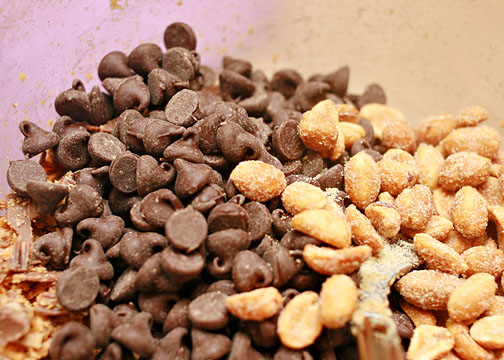 Pour over the crust and spread evenly. In the same bowl you used for the candy (why wash three dishes when you only have to wash one?), mix together the sweetened condensed milk (yum), vanilla, and peanut butter. Try to act like an adult and NOT indulge in this delicious, heavenly milky mixture spoon by spoon like I did.

Pour over the candy pieces and spread evenly.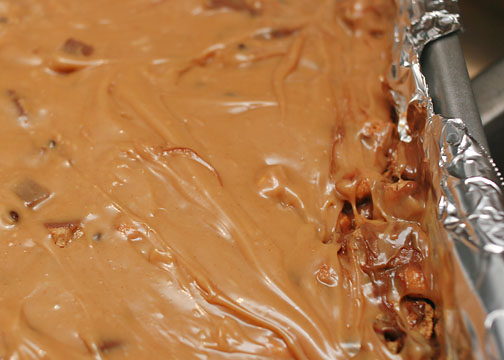 Bake at 350 degrees until the top is crusty and golden, usually about 20-25 minutes.
Oh yeah baby!!!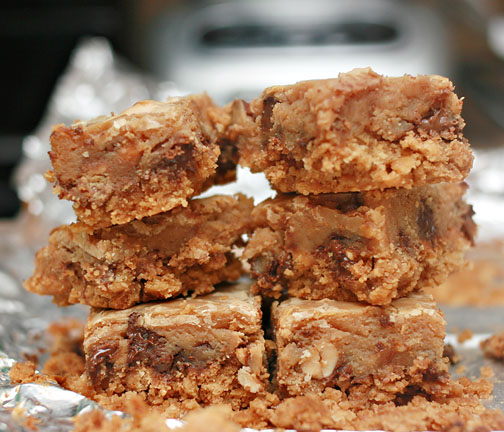 Chocolate Peanut Butter Paradise Bars
1 (16 oz) package Nutter Butter cookies, crushed
1 stick butter, melted
1 can sweetened condensed milk
1 tablespoon vanilla
3/4 cup peanut butter (creamy or crunchy, your choice)
14  pack-a-snack size Reese's Peanut Butter Cups, chopped
6 fun size Butterfinger candy bars, chopped
1 cup semi-sweet chocolate chips
1/2 cup honey roasted peanuts
Preheat oven to 350 degrees F. In a large microwavable bowl, melt butter. Add crushed Nutter Butter cookies; mix together well and spread into a foil-lined 9×13″ baking dish. Bake for 8 minutes. Meanwhile, mix together chopped candies, semi-sweet chocolate chips, and peanuts. Spread evenly over baked crust. In a medium bowl, mix together sweetened condensed milk, peanut butter, and vanilla. Pour over the candy and crust evenly. Bake until the crust is crusty and golden, about 20-25 minutes. Allow to cool, remove from pan by lifting foil, and cut into squares.