Posted by Mandy on December 16th, 2010. Filed under:
Candies
,
Chocolate
,
Cookies & Bars
,
Holiday Favorites
,
Kids Can Help
.
I've been making these a batch at a time for at least the last two weeks, and my family (especially the baby) has been gobbling them up right and left. These are beyond delicious and are a welcome sight on any dessert tray this time of year. You can substitute any kind of candy that you prefer for the Reese's Peanut Butter Cups. We like to switch it up and use miniature Snickers or just regular old Hershey's kisses sometimes too. It doesn't matter what you use because with a combination like chocolate and peanut butter, you just can't go wrong.
This recipe only requires two items. Nothing could be simpler!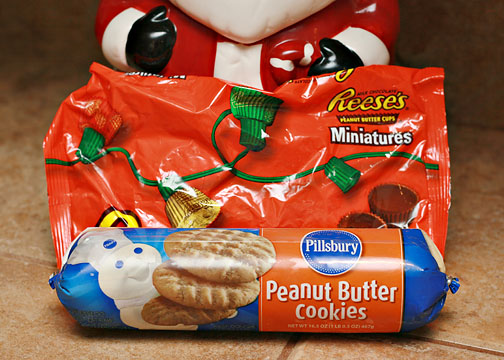 Take your already prepared dough (and if you have a favorite peanut butter cookie recipe, you can certainly substitute that) and roll it into small balls. Place each ball into the well of a mini muffin pan.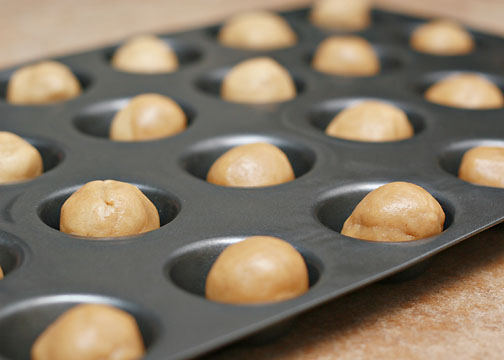 Place in the oven and bake at 350 degrees until JUST done, don't let them get too brown or they'll be crunchy. While they are baking, go ahead and wrap the appropriate number (amount will depend on how many wells your mini muffin pan holds) of candy pieces. Unwrap a few extra in case little hands…like in my house…sneak by and take some before the cookies are done baking.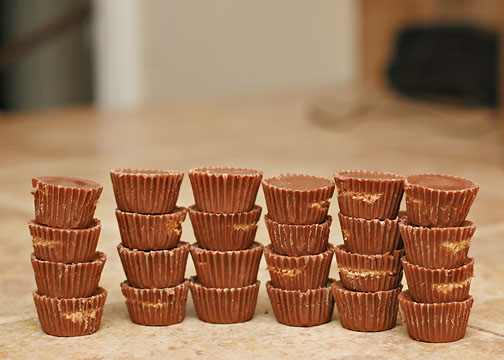 As soon as you remove the cookies from the oven, place each piece of candy in a cookie, and press down slightly. You'll end up with a pan of cookies that looks like this.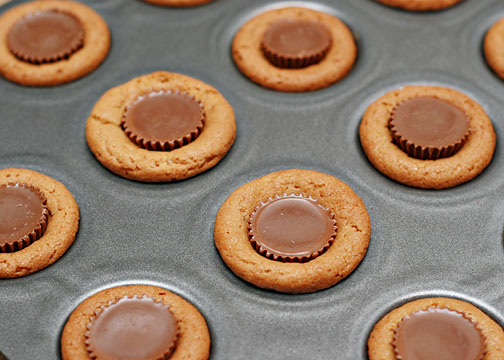 Leave them in the pan for 10 minutes or so, just long enough to allow them to cool slightly and hold their shape. Remove and serve. YUMMY somehow just isn't an appropriate enough word…it's even better than yummy!!!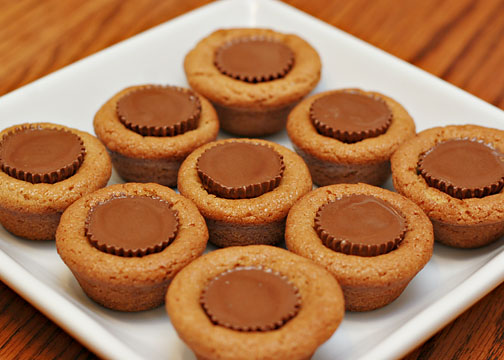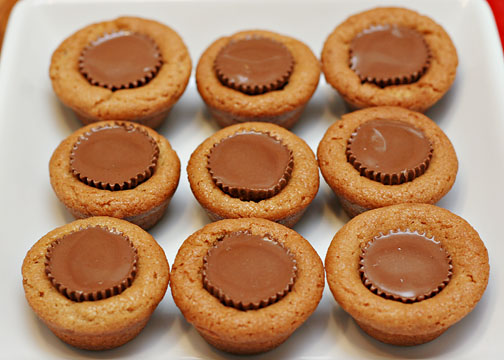 Double Peanut Butter Cookies
2 rolls peanut butter cookie dough
1 package Reese's peanut butter cups (miniature size)
Grease a mini muffin pan. Roll cookie dough into 1″ balls and place in muffin wells. Cook as directed on package. While this is cooking, unwrap the peanut butter cups. Immediately after removing the cookies from the oven, press the peanut butter cups into the center of the cookie. Allow to cool about 10 minutes before removing from the pan to place on cooling racks.