Posted by Mandy on December 10th, 2010. Filed under:
Desserts
,
Holiday Favorites
,
Pies
,
Pies & Pastries
.
This time of year something just makes me want to eat sweets…doesn't matter what it is as long as it has LOTS of sugar in it. I can't resist so why even try? I'll work it all off after the start of the new year, right? So since I'm in baking overload, I made this pie for my hubby (it's his favorite). He prefers his pecans (pronounced puh-cans, not pee-cans around here) chopped but you can leave yours whole if you'd prefer. Either way, it's gonna be yummy and irrestible. And yep, you guessed it. This is yet another recipe that I've been using for so long that I can't remember where it came from or else I'd give credit where credit is due.
Grab these items: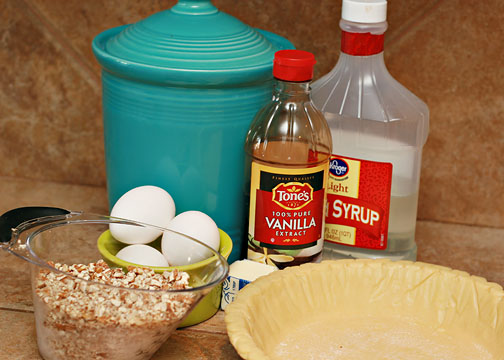 Whisk eggs
Add corn syrup, vanilla, sugar, butter, and pecans. Mix all until well combined.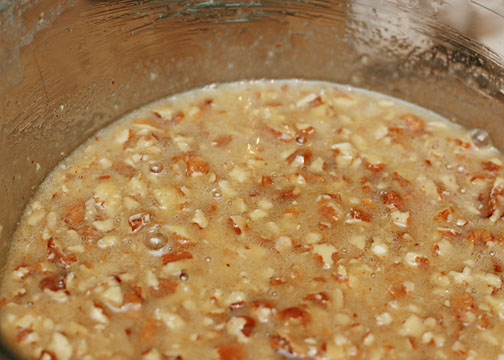 Pour into (unbaked) pie crust. I like to place mine on a foil lined baking sheet just in case I have runover from the pie while baking.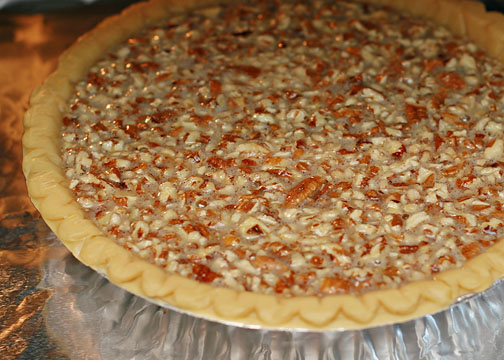 Bake at 350 degrees until done, about 50-55 minutes.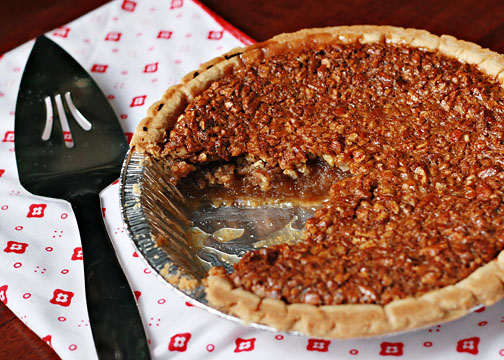 Pecan Pie
3 eggs, lightly beaten
1 cup light corn syrup
1 teaspoon vanilla extract
1 9″ deep dish pie crust
1 cup sugar
2 tablespoons butter, melted
1 1/4 cup pecans, chopped if you prefer
Preheat oven to 350 degrees. In a medium bowl, whisk eggs. Add sugar, corn syrup, margarine/butter, vanilla, and pecans. Stir until blended. Pour into crust and bake 50-55 minutes or until knife inserted halfway between center and edge comes out clean. Cool on wire rack.