Posted by Mandy on January 27th, 2012. Filed under:
Appetizers
,
Birthday Party Ideas
,
Breads
,
Brunch
,
Christmas
,
Holiday Favorites
,
Main Dishes
,
Pork
,
Quick & Easy Weeknight Meals
,
Sandwiches
,
This & That
.
In the past, I've admitted my undying love for sandwiches of all kinds. If it's meat (or even veggies for that matter) between bread with some cheese, I'm likely to fall head over heals in love with it upon first bite. These little sammies are no exception. I tasted these for the first time at a shower we held at the office where I used to work. Even brought to work and sitting in a cubicle for half the day and then warmed in the microwave they were still divine.
These would be perfect for your Super Bowl gathering next Sunday! Men, women, children…everyone loves these! I usually make another smaller batch of just rolls with mayonnaise spread on them, since my hubby is a mustard-hater, but most people love them even if they don't love mustard. The sauce has so much flavor from the mustard, onions, and such. Try them next weekend and your fellow football-lovers won't be sorry. That is unless their pick of "team-to-win" loses, but I can't help ya on that one.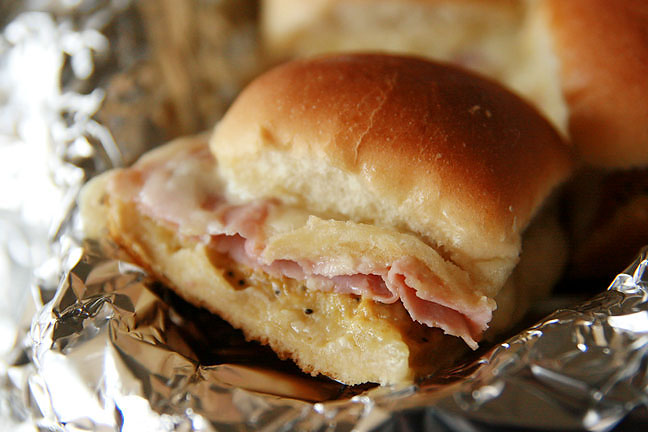 Ham, Cheese and Poppyseed Sliders
1/4 cup butter, melted
1 tablespoon yellow mustard
1 tablespoon poppy seeds
1 tablespoon dried minced onions
2 teaspoons Worcestershire sauce
1 package prepared rolls (I used Sara Lee)
honey ham
sliced Swiss cheese
Preheat oven to350 degrees F. Slice rolls in half horizontally, so that you end up with the roll tops on one side and the roll bottoms on the other. Combine butter, poppy seeds, mustard, onions, and Worcestershire sauce. Spread the mustard and poppyseed mixture over the roll bottoms. Top with the sliced ham and cheese. Spread mayonnaise on the roll tops. Place the tops back on the rolls, covering the cheese and ham. Wrap the entire pan of sandwiches in foil and bake until warm, about 15-20 minutes. Uncover rolls and continue baking until cheese is melted. Serve hot.