Posted by Mandy on January 16th, 2012. Filed under:
Chicken
,
Main Dishes
,
Quick & Easy Weeknight Meals
,
Soups & Stews
.
Well, it's been a while hasn't it? I bet y'all thought I had jumped ship and decided to stop blogging, or either just completely fell off the face of the earth, huh? Well, lucky for all of you faithful recipe lovers, that's not the case. We merely hit a bump in the road here at our house and it took a while to tend to things and get them all straightened out. Since I last updated, my hubby accepted a job way up in the north slope of Alaska, and just this weekend my son, mom, and I returned from our trip to Boston where my son had his 20th surgery. That's a lot to swallow for one person! So, my biggest apologies for the lack of updates and if you all are willing to forgive me for leaving you for a while, I'll happily share a new recipe with all of you today.
This recipe is one of my family's all-time favorites. My mom has been making this soup for as long as I can remember. It just screams comfort as it's cooking and filling your home with the delicious smells. Anytime someone in my house is sick, this soup makes an appearance and we all thoroughly enjoy it. I have a hilarious video of my youngest at just a year old trying to slurp her noodles into her mouth. So precious! I personally like my soup with a side of grilled cheese, but seeing as how my hubby is lactose intolerant I usually serve this with a big ole pan of homemade cornbread (don't have a recipe, try my Mae Mae's here: http://www.thesupermomchef.com/?p=252). You won't be disappointed with this one, I can promise you that!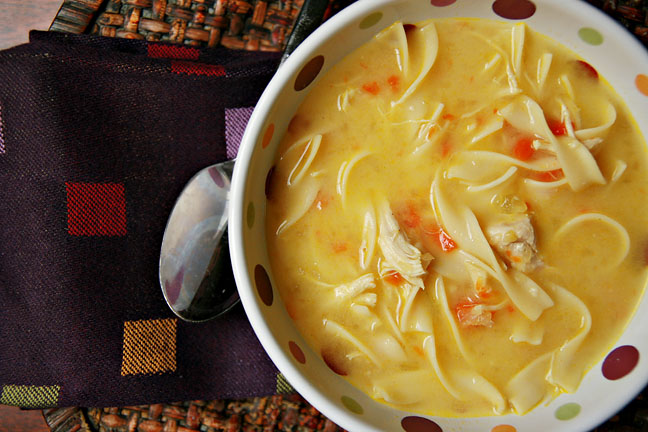 Momma's Chicken Noodle Soup
chopped, cooked chicken (however much you prefer)*
96 oz. water
1/4 cup chicken base (or the equivalent amount of chicken boullion)
2 tablespoons butter
3 carrots, peeled & diced
1 onion, diced
2 stalks celery, diced
8 oz. dry noodles (I prefer the No Yolks brand)
1-2 cans cream of chicken soup (depending on how creamy you like your soup)
1 teaspoon seasoned salt
1/2 teaspoon garlic powder
1/2 teaspoon black pepper
Pull chicken from the bone and shred. Saute onions, celery, and carrots in butter until onions are transparent and vegetables are somewhat softened. Bring water and chicken base to a boil, add remaining ingredients and cook until noodles are tender. Serve hot with grilled cheese or cornbread.
*Note: I like to use a rotisserie chicken from the deli for this chicken, but you probably won't need the whole chicken for this recipe.