Posted by Mandy on November 16th, 2010. Filed under:
Breads
,
Southern Classics
.
I know, I know…you've probably heard Mae Mae's name mentioned at least once in every single post I've written. But truth is, almost everything I know about cooking I learned from her. She was the QUEEN of cornbread. I remember helping her in her day care and every single day there was a pan of this cornbread sitting on her table at lunch time. Being able to be the "cornbread maker" meant you had truly arrived…you were no longer there just because you had to be with a sitter (she had a day care), it meant that you were there to actually HELP babysit the other children. Only the most helpful ones got to help in the kitchen! I even have her old black skillet that I still use for making my cornbread here at home. There are a million ways to enjoy cornbread…hot right out of the skillet with some butter melted on top, crumbled into soup vegetable soup, crumbled into a glass of buttermilk (that's what Mae Mae used to do with hers), crumbled to make cornbread dressing. The list is endless! Without further blabbing, here is how to make it.

The star ingredients: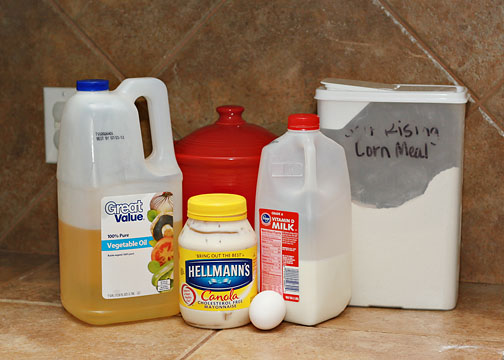 Start by placing a seasoned cast iron skillet on medium heat, with about 3-4 tablespoons of oil in it (I forgot to take a photo of this step, sorry!). While that gets hot, proceed with making your cornbread mixture. Mix together the dry ingredients. Add in your egg and mayonnaise. Add in about a cup of milk and start stirring to combine.
Keep stirring and adding milk until you have an appropriate mixture. You don't want it to thick or else you'll end up with dry, crumbly cornbread.  It will probably take more milk than you'd imagine it will…at least mine always does. I like to add milk to mine until about this point…where when I drop a spoonful back into the mixture it stands up a little bit but sinks into the other mixture within just a few seconds.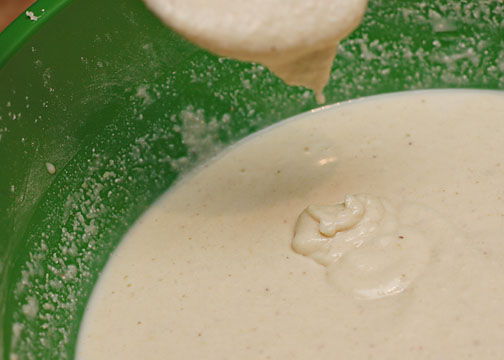 Once you have your cornbread mixture ready, check to see if your oil is hot. I like to heat mine ALMOST to the point that it's smoking. You can usually smell it at that point also. Pour most of the hot oil into the cornbread mixture, leaving about 1 tablespoon in the skillet. This will sort of "fry" the edges of the cornbread and make for a crispy outside crust. Mix together the cornbread mixture until the oil is completely incorporated. Pour the mixture into the hot skillet. Bake at 350 until the middle is firm. Now this is where it gets a little confusing. We like to brown the top of ours, so I'll show you how. Take the hot skillet and a dinner plate and place them side by side. Dump the hot cornbread onto the platter upside down, like this: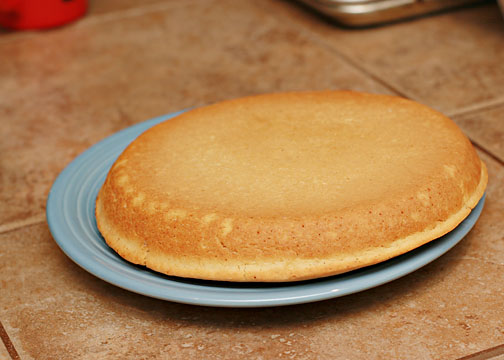 Now take the plate and slide the cornbread slowly into the skillet.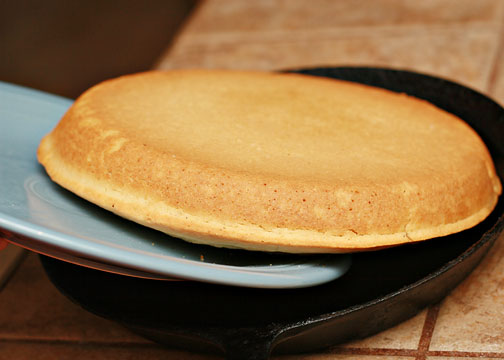 You'll end up with your cornbread inside the skillet, with the top being turned downward, like this: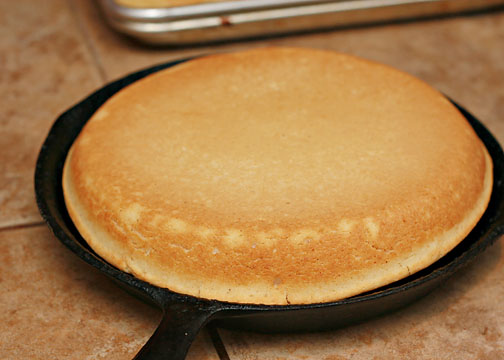 Place it back into the oven for a short while, about 5 minutes. Remove and dump out onto the plate. Now you'll have a perfectly browned pan of cornbread.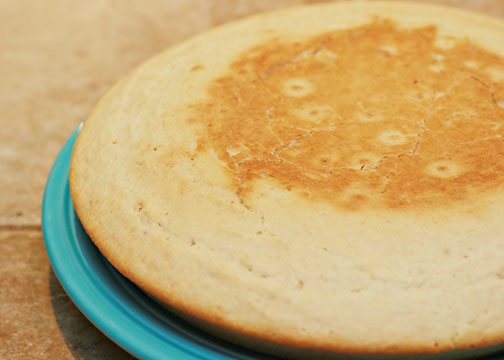 Slice and serve!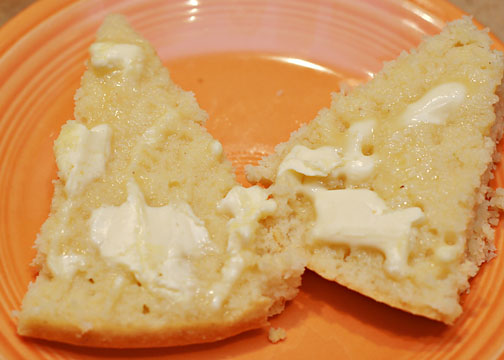 Mae Mae's Homemade Cornbread
1 3/4 cups self-rising corn meal
1 cup all-purpose flour
1 tablespoon mayonnaise
1 large egg
milk, however much you need
3-4 tablespoons vegetable oil
Preheat oven to 350 degrees. Place a cast iron skillet with the oil in it over medium heat. Allow to come to temperature while you are making the cornbread mixture. Mix together dry ingredients in a medium-sized mixing bowl. Add egg and mayonnaise; add about 1 cup milk and stir to combine. Continue adding milk until desired consistency. I like mine to be thin enough so that the cornbread isn't too dry and crumbly. To do so, add milk and mix until when you spoon some on top of the mixture you wind up with a little mound of dough that gently sinks back into the remaining mixture within a few seconds. Add most of the oil into the cornbread mixture, leaving about 1 tablespoon in the skillet. Pour the cornbread mixture into the pan. Bake until the middle is firm, flip the cornbread using a plate for assistance (see photos above), to brown the top. Bake an additional 5 minutes. Remove to a plate to slice and serve.