Posted by Mandy on December 16th, 2011. Filed under:
Appetizers
,
Brunch
,
Christmas
,
Gifts from the Kitchen
,
Holiday Favorites
,
Kids Can Help
,
Snacks
,
Southern Classics
,
This & That
.
I thought maybe y'all were sick of sweet recipes and could use something different for a change. Don't you go gettin' too comfortable with the savory recipes though because tomorrow I have some more sweets to post for you. It is Christmas after all, the season of eating chocolate for breakfast and it being completely acceptable. 😉
Now on to the wafers. Those of you from the South with recognize these as a recipe somewhat like a cheese straw, except this dough is a bit thicker making it not appropriate for use in a cookie press. I have good news though…these are much easier to make because you don't have to mess with that stupid cookie press thingy and have hand cramps by the time you finish. (I have a very high dislike for making cheese straws!) With this recipe, you make up the dough and then simply make small balls of dough, press 'em slightly with a fork, and bake! They are just as delicious to me as a cheese straw is, though my wacky hubby differs in that opinion, he prefers the thin crispness of a cheese straw over these. (Seriously, how did I ever end up married to a man that I am a polar opposite of?)
Oh, and one more thing to think about when preparing your holiday spread. These make a great addition to a party menu because it's something salty/savory amidst all of the traditional candy sweets. (And at home, it gives you something to much on between the thousands of pieces of homemade candy…I can't be the only one doing that these days, right?)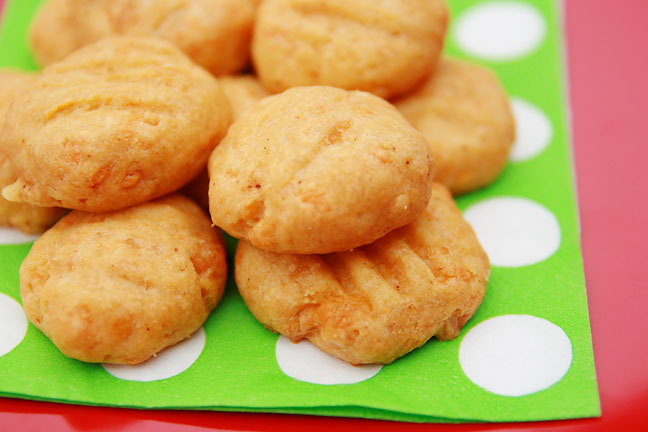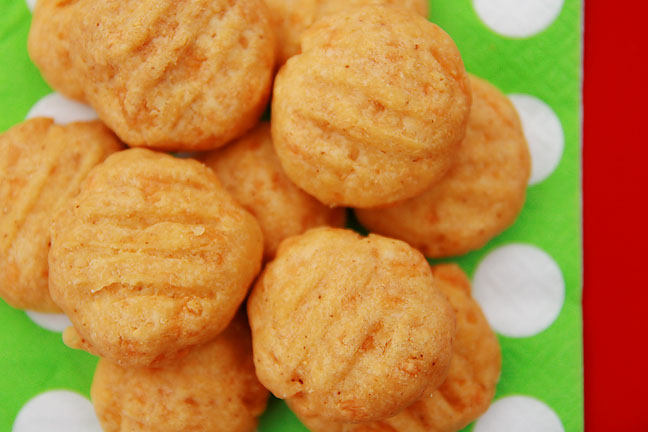 Cheese Wafers
1 1/2 cups margarine, softened
2 cups all-purpose flour
1/2 teaspoon salt
1/2 teaspoon ground cayenne pepper
2 cups grated Cheddar cheese
Preheat oven to 375 degrees F. Mix together dry ingredients, stir in Cheddar cheese to coat completely. Add butter and stir until completely combined. Shape into 1/2″-3/4″ balls, and place on a cookie sheet (do not spray with non-stick spray). Press each ball lightly with a fork to flatten. Bake until firm to the touch and golden. Immediately move wafers to a cooling rack to cool completely; store in an airtight container.