Posted by Mandy on December 8th, 2011. Filed under:
Candies
,
Chocolate
,
Christmas
,
Desserts
,
Gifts from the Kitchen
,
Holiday Favorites
.
I've told y'all about my Mae Mae before, the sweetest lady that I've ever known in my entire life. She was my mom's mom and she was the best cook that I've ever met. Bobby Flay wouldn't have a prayer if put up in a throwdown with my Mae Mae! When I think of Christmas time and holiday goodies, Mae Mae is not far from my mind. I remember each year she'd make candy, tons and tons of it! She'd make everyone's favorite just because she was that sweet, and she'd even make multiple batches of each just so we'd have enough to all get some. This fudge, in particular, was always my mom's favorite.
The memory of seeing her prepare her candy is still so vivid to me…I can see Mae Mae right now sitting in her kitchen with her silver pot (which didn't even have a handle anymore) stirring, stirring, stirring. She always pulled up her bar stool to the kitchen counter so she didn't have to stand and stir (her knees hurt her so bad, especially there at the end). She'd sit in the bar stool and pull out her middle drawer where she kept her kitchen rags and place the pan in the drawer so it would be low enough to stir, and then she'd get busy. With her arthritis as bad as it was, I have no idea how she ever stirred so much but she did it! And all for the ones she loved so dearly.
I won't lie and say this recipe is the simplest I've ever made, but what I will tell you is that the final product is worth every single ounce of effort you put into it. It's the creamiest, chocolatiest (yes, that's a word…at least in my book!) most decadent treat you could ever have. Truth be told, it's so rich you really only need a tiny piece but it's so hard to stop! You can make this either in one 9×13″ dish or make thinner fudge by pouring it into two 9×13″ pans. I personally prefer the thinner version, but Mae Mae always made hers in just one dish. What better time of year to make something so comforting and delicious to share with your family, just like Mae Mae always did?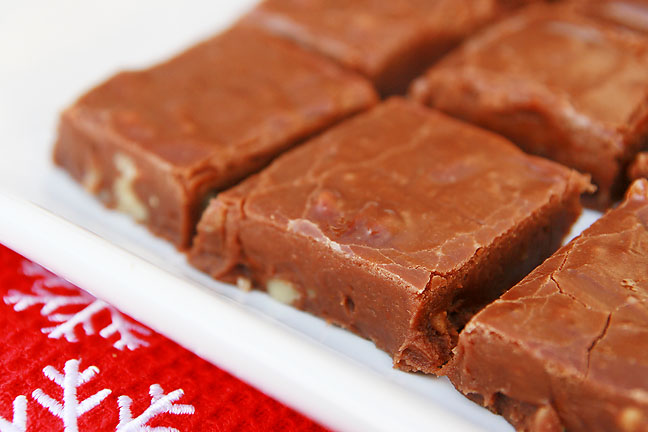 Mae Mae's 5 Pound Fudge
1 (12 oz) can evaporated milk
5 sticks oleo (I use Parkay margarine)
2 squares unsweetened chocolate
1 lb. mini marshmallows*
5 cups granulated sugar
1 (12 oz) package semi-sweet chocolate chips
2 cups chopped pecans
Prepare either one or two (depending on how thick you want your fudge) 9×13″ baking pans by lining each with foil and spraying with non-stick cooking spray. Melt butter; add sugar and evaporated milk. Bring to a strong boil. Once the mixture reaches a full rolling boil, stir constantly for a full 6 minutes. Remove pan from flames and add all remaining ingredients. Stir (what seems like forever) until you drop the chocolate mixture from a spoon into bowl and it stands up**. If it still doesn't stand up, put saucepan in cold water and continue to stir. Pour fudge into prepared dish/dishes and allow it to sit until firm, usually overnight.
*Be sure to use a full pound of marshmallows, not just one package of marshmallows. This recipe is an older one and is from the days when a package of marshmallows was a full pound. Most packages are now only 10 oz. each.
**When I make this, it doesn't usually "stand up" as the recipe says. I usually stir slowly for about 15 minutes or so, and then pour the mixture into the pans and mine sets up fine.