Posted by Mandy on December 2nd, 2011. Filed under:
Appetizers
,
Christmas
,
Gifts from the Kitchen
,
Holiday Favorites
,
Kids Can Help
,
Snacks
,
This & That
.
Nothing on the face of this planet reminds me of my Nana at Christmas time more than her seasoned oyster crackers. There was never any question about whose house we went to on which day at Christmas time growing up. We always went to my dad's family on Christmas Eve after our Christmas program at church, and went to my mom's family on Christmas Day. By the time Christmas Eve dinner rolled around we were starving, but luckily my Nana (my dad's mom) had dainty little china bowls all around her house filled with these yummy snacks. I'd eat them until I was so full I couldn't even fit in any Christmas dinner. They are still one of my favorite homemade snacks and I am now carrying on the tradition for my own children and make this for them. What are some of your favorite Christmas snacks and candies? I'd love any new recipes you're willing to share! Please send any to me at mandy (@) thesupermomchef (dot) com. And please remember to "Like" my Facebook page if you want updates on the new recipes that I post!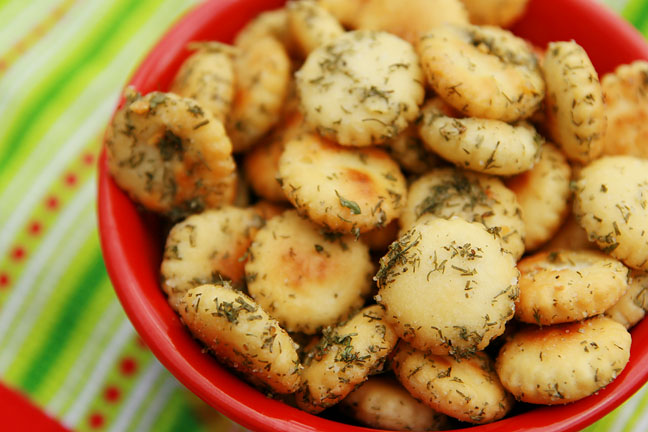 Seasoned Oyster Crackers
2 bags oyster crackers
1 package dry Ranch dressing mix
2 tablespoons dill
3/4 cup oil
Mix together the oil, dill, and Ranch mix until well combined. Pour over the oyster crackers and toss with your hands until the crackers are equally covered. Pour the crackers into a paper grocery bag and allow to sit for a short while to allow some of the oil to drain out (I usually let mine sit about 2 hours or so). Store in an airtight container.