Posted by Mandy on November 15th, 2011. Filed under:
Breads
,
Brunch
,
Holiday Favorites
,
Rolls
,
Snacks
.
Thanksgiving is quickly approaching, and I'm sure you are all planning out your menus. Except those of you that claim you can't cook…you guys are probably wondering which place is the best to buy an already cooked casserole or dessert. I got you, didn't I? 😉 I'm not making fun at all, I truly stick by the saying that not everyone can cook. My sister is a prime example of that saying but don't tell her I told you that. Dangit…where was I going with all this "can't cook" talk? I'm so scatterbrained sometimes.
Oh yeah, speaking of people who claim they can't cook certain things. One day when I really started to enjoy cooking and wanted to try something new in the kitchen, I asked my mom if she had ever made any homemade yeast bread. She said no because she always too scared to (although she makes delicious homemade sourdough bread and has for as long as I can remember…she claims that's not yeast from scratch since she has a starter she uses to make it that someone shared with her). Well I have since tried numerous homemade yeast bread recipes and I tell ya what, it's not hard at all! As long as you get the temperature of the water right (not too hot so that it doesn't kill the yeast and not too cold so that it is able to activate the yeast), you are guaranteed to have a delicious bread. This is one of those recipes, so simple but yet so delicious. These rolls straight out of the oven are one of my favorite things to eat, slather it with a little butter and then pour on the honey. OH EM GEE! <– said in my best 15 year old scream, of course. It's so delicious!
I thought that now was the appropriate time to share this recipe since everyone's Thanksgiving table always has at least one type of roll on it. These would be super easy for turkey day too, because you can mix all the bread up the night before and let them rise in the oven overnight before baking. Hot rolls on the table in no time! But I'll go ahead and warn you to make two batches. People are gonna be fighting over these!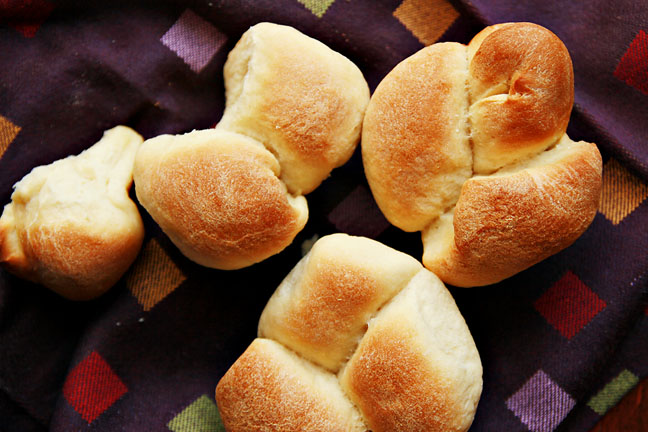 2511 Rolls (Cloverleaf Rolls)
1/4 cup warm water (100-110 degrees)
2 tablespoons rapid rise yeast
1 1/4 cups warm buttermilk
1/4 cup unsalted softened butter
1/4 cup sugar
2 teaspoons salt
5-6 cups all-purpose or bread flour
1/2 cup unsalted butter, melted
Generously spray a 12-cup muffin pan with nonstick cooking spray and place on a large baking sheet lined with parchment paper. In a mixer bowl, hand-whisk water and yeast together and let stand 2 to 3 minutes to dissolve yeast. Briskly whisk in buttermilk, softened butter, sugar, salt, and most of flour. Knead with a dough hook on lowest speed about 8 minutes, adding more flour as necessary to form a soft, smooth, and elastic dough. Remove dough hook and spray dough with nonstick cooking spray. Allow to rise in a warm spot for 45-60 minutes, or refrigerate overnight. If refrigerating, allow dough to warm to room temperature before proceeding. Turn out dough onto lightly floured work surface and gently deflate. Divide dough into 12 portions. Cut each portion into three chunks and dip chunks into melted butter. Alternatively, you can form the chunks into small balls. Place three chunks or balls into each well of a 12-cup muffin pan. Drizzle any leftover melted butter over rolls. Cover loosely with plastic wrap and allow to rise until doubled in bulk, 30-60 minutes. Preheat oven to 375 degrees F and bake 10 minutes. Then reduce oven temperature to 350 degrees F and continue to bake until lightly browned (another 15-20 minutes). Cool in pan 10 minutes and then turn out to serve or cool completely.
Recipe from: "A Passion for Baking" by Marcy Goldman