Posted by Mandy on September 29th, 2011. Filed under:
Brunch
,
Desserts
,
Fruit Desserts
,
Kids Can Help
,
Salads
,
Snacks
,
Southern Classics
,
This & That
.
As a child, I absolutely loved pears, so my Nana would always prepare this salad for me. She's a bit on the fancy side so she'd plate it up for me on lettuce leaves atop fancy china and let me use her real sterling silver cutlery. I'd eat up every bite that she ever fixed me and felt like a princess being served in such a fancy way. Then we'd go to her playroom and put on all of the costume jewelry that she had, and cover our lips in every single color of lipstick imaginable. I remember marveling at her lipstick collection, and dreaming of the day when I'd be a big girl and could have my own lipstick collection and eat pear salad all day long. Oh to be young again!
Before you look at the ingredient list and think, "OMGOSH! How disgusting! Pears with mayonnaise and cheese?" please just give it a chance. It sounds totally strange to mix these things but trust me when I say that it's delicious!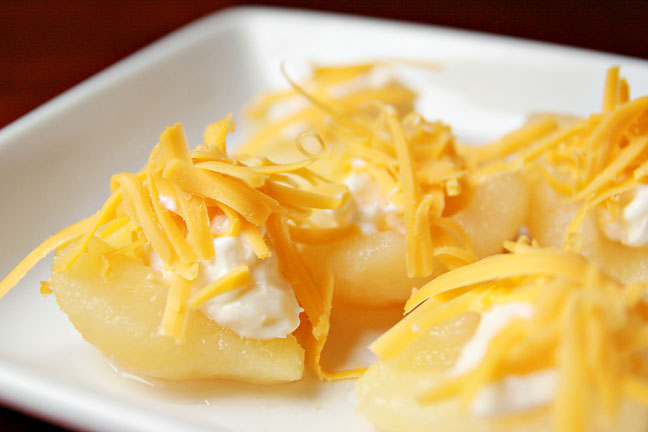 Nana's Pear Salad
1 can pear halves, drained
grated Cheddar cheese
mayonnaise
Lie pear halves out on a dish, cut side up. Top each half with a dollup of mayonnaise and some shredded Cheddar cheese. Chill until ready to serve.