Posted by Mandy on September 19th, 2011. Filed under:
Beef
,
Main Dishes
,
Quick & Easy Weeknight Meals
,
Southern Classics
.
Yesterday I posted on my blog's Facebook page (check it out, if you haven't already…that way you get notifications when I post new recipes!) and asked what type of recipe y'all would like to see today. The overwhelming vote was for a quick main dish. Far too often we all fall into the weekday dinner rut, as I like to call it. We tend to make the same 5-10 dishes over and over and over again until we are just sick of them. So often it's easier just to purchase a dinner rather than take the time to make something homemade ourselves. That's why I try to stick to recipes that are easy, affordable, and that my whole family will enjoy. I know that's the way I like things, so I assume that you all do too!
Some may say that this isn't a recipe, per say, but more of a process. To me, a recipe doesn't necessarily have to mean that everything is prepared from scratch. We are lucky enough to live in a day and age when things are simpler than they once were and I, for one, have no problem taking advantage of these shortcuts (aka gravy mix). But if you are one of those folks that is lucky enough to have the ability to be able to make gravy from scratch (I'm not one of those folks), then by all means go for it. Homemade gravy causes me to cry tears of failure so I will just go the easy route.
This particular recipe comes from my mother-in-law. She's a wonderful cook, and has been kind enough to share a few of her recipes with me so that I can keep my hubby happy. I think I've perfected this one and her fried potatoes, so now I think it's time to move on to his all-time favorite, minute steaks. Wish me luck (I've never cooked a minute steak in my life!), and in the meantime make this for your family for dinner. It's one of those recipes that tends to make everyone in the household happy!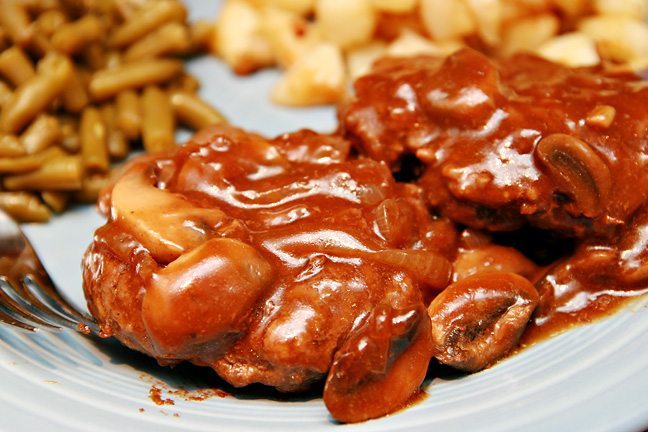 Good old fashioned Southern Hamburger Steak, not much better than this!
Hamburger Steak
ground beef, 80% lean (this is very important, you need the fat to add flavor!)
mushrooms
onions
2 packets brown gravy mix (I prefer McCormick)
salt & pepper
Set a large skillet over medium-high heat. Form ground beef into the size patties that you prefer. Sprinkle generously with salt and pepper on both sides. Add the ground beef to the skillet, making sure not to flip the meat to often so that you form a brownish crust on the outside of the meat. Meanwhile, slice the onions and mushrooms. When the meat is close to being done, add the onions and mushrooms to the skillet. Allow to brown and soften, stirring often. Allow meat to cook through and drain off any excess fat from the skillet. Prepare gravy mix according to directions and add to skillet. Cook over medium-low heat until the gravy is heated through and thickened.