Posted by Mandy on August 7th, 2011. Filed under:
Brownies
,
Candies
,
Chocolate
,
Cookies & Bars
,
Desserts
,
Kids Can Help
,
Snacks
.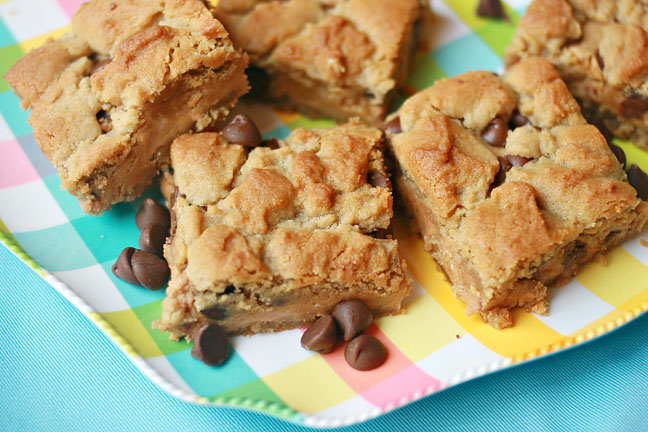 It's no secret that I'm like an addict when it comes to chocolate and peanut butter treats. I could literally sit down and eat and entire pan of something made out of these two ingredients. I may have even done that a time or two. *clears throat* I won't be posting for quite a while because I'm headed back up  North for my son's 18th surgery this week. It's a bit sad, I must say, but we are dealing with it okay. I know God will pull us through like He always does. So until I'm back posting more yummy treats for you to make, this one will have to tied you over until I return. Oh, and if it's not too much trouble, please remember to keep our family in your prayers during this difficult time.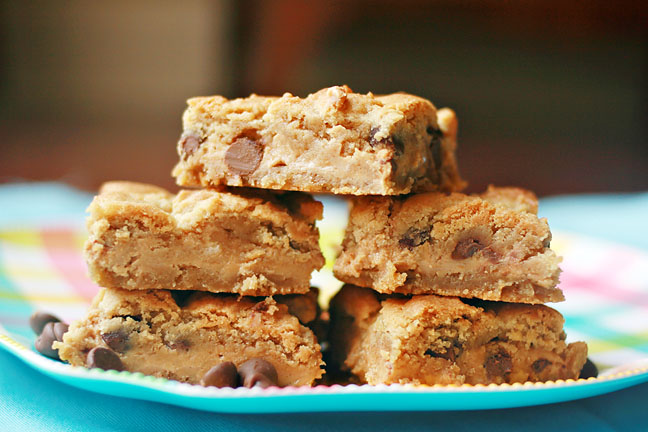 I must say, these little babies are every bit as delicious as they look. Yum, yum, and YUM!!!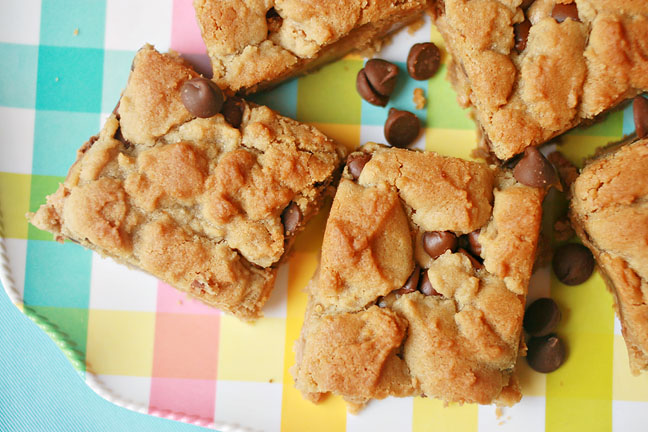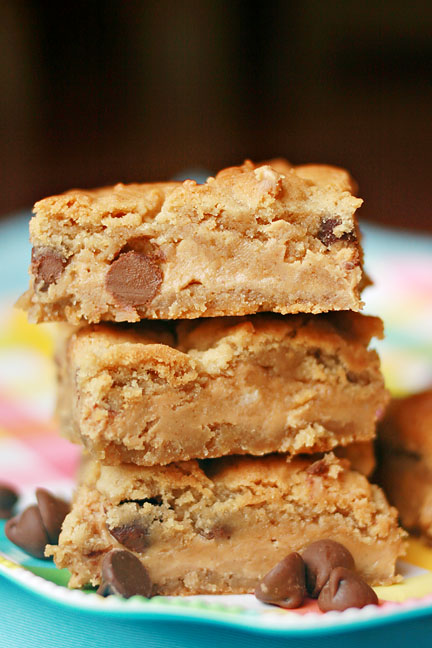 Chocolate Chip Peanut Butter Cookie Bars
2 (16 oz) packages refrigerated peanut butter cookie dough
1 1/2 cups milk chocolate chips
1 (18 oz) jar creamy peanut butter
1/2 cup powdered sugar
Preheat oven to 350 degrees F. Meanwhile, spread one package of cookie dough in the bottom of a 9×13″ baking dish, covering the entire pan. Mix together powdered sugar and peanut butter until fully combined. Spread on the cookie dough, making a layer. Sprinkle the chocolate chips over the top. Break off chunks of the remaining package of cookie dough, and cover the chocolate chips with this dough. Bake until golden brown, about 30 minutes. Allow to cool before cutting into squares.
Adapted from: http://mealplanningwithconnie.blogspot.com/2011/01/chocolate-chip-peanut-butter-cookies_23.html