Posted by Mandy on August 3rd, 2011. Filed under:
Appetizers
,
Beef
,
Kids Can Help
,
Main Dishes
,
Quick & Easy Weeknight Meals
,
Sandwiches
,
This & That
.
Before I tell you about this recipe let me just tell you about my hubby. He's a super picky eater. He doesn't like anything "weird" in his food, and "weird" in his mind qualifies as anything other than pasta, meat, or potatoes. He sure doesn't like onions or peppers, and will turn his nose up at the food that I make if that's in there. What a punk, huh? Anywho, this recipe is for those kind of picky eaters.
Usually once a week I'll make a menu for my family's meals for the week and go to the grocery store only once during the week. But every now and then I'll find myself standing in the grocery store wondering what on earth I can make that would be easy and yet still delicious. That's how this recipe came about. I was standing in the meat case at our local grocery store and wondering what I could fix for dinner. It was 5:30 pm after I had spent an entire day at the hospital with all three of my kids so I was exhausted. I needed something that I could literally just fix and walk away from while it cooked. Then I looked over and saw a display of slider buns. You know what I'm talking about, right? Those itty bitty cute little hamburger buns? That's when I thought, what the heck? I'll buy these and some hamburger meat (that's what we call ground beef here in the South) and make some little burgers (aka "sliders") for the kids.
Turns out my hubby was the one that immediately fell in love with these little mini burgers. Matter of fact, he pretty much hoarded the leftovers all to himself and he never eats leftovers! He begged me at least 2 more times that week to eat them. If he raves about a food like that, then you know it's good! When all else fails, this recipe is sure to please my picky eater!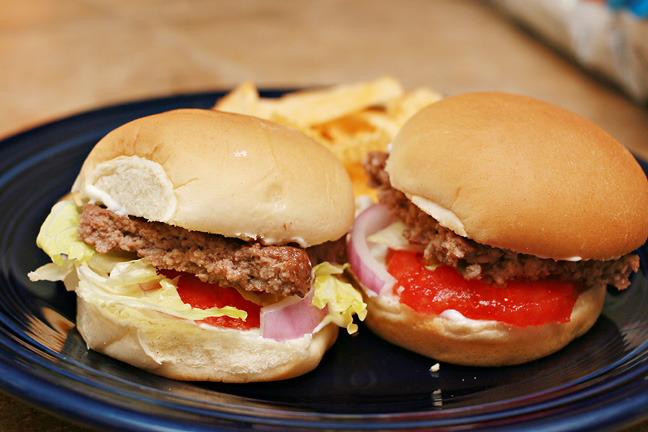 My hubby likes to put two layers of beef on each of his buns, but I prefer the more dainty single layer.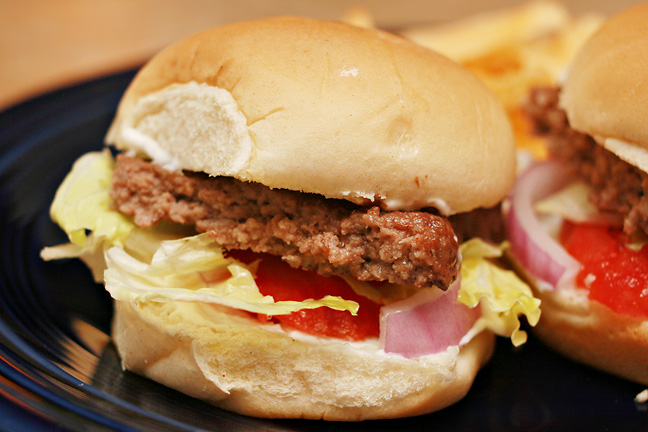 Hamburger Sliders
2 pounds (80% lean) ground beef
1 package hamburger slider buns
seasoned salt, to taste
pepper, to taste
desired fixings for your burger (mayonnaise, ketchup, mustard, cheese, lettuce, tomatoes, onions, etc.)
Preheat oven to 350 degrees F. On a large rimmed baking sheet, spread out the ground beef covering from edge to edge. Sprinkle generously with seasoned salt and freshly grated black pepper. Bake for 25-30 minutes, or until cooked through. The beef will shrink up a good bit while cooking, but don't be alarmed about that. Cut the large rectangle shaped beef pattie into smaller bun-size squares. Top as desired.