Posted by Mandy on August 1st, 2011. Filed under:
Cheesecakes
,
Desserts
,
Fruit Desserts
,
Kids Can Help
,
Trifles
.
I don't even have to tell you how delicious this dessert is. It's basically a no-bake cheesecake mixture, sliced strawberries, and cubed up pound cake. What's not to love about that? I didn't have a recipe for this particular dessert but rather just kind of threw some things together one day on a whim and it turned out great. It's another one of those desserts that I made to take to a family gathering that didn't last longer than a minute or two before it was completely gone. I think I'm making a name for myself here. Only problem with that is that people have these high expectations so I must deliver or else! You can dress this up by serving each person their own individual servings in a dish, or you can simply fill a regular size trifle dish. Either way it'll still taste good, so just choose which route suits you best. I wouldn't go so far as to ever call this dessert "healthy", but you could make it a little healthier by substituting low fat ingredients for their full fat counterparts. I'll bet no one would be the wiser if you did so.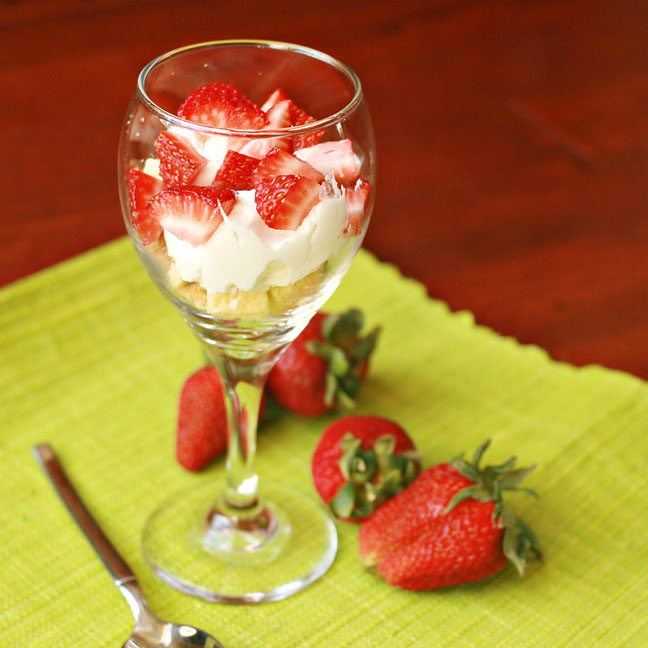 Strawberry Cheesecake Trifle
1 (16 oz) prepared frozen pound cake, thawed
1 (8 oz) package cream cheese, softened
1/4 cup sugar
1 1/2 cups frozen whipped topping, thawed
1/2 teaspoon vanilla
1 pound freshly sliced strawberries
In a mixing bowl fitted with the paddle attachment, mix cream cheese until softened and all lumps are worked out. Add sugar and vanilla, mixing well until combined. Slowly mix in the whipped topping. Set aside. Meanwhile, cube pound cake into bite-size pieces. Place half of cake cubes in the bottom of a trifle dish; top with half of the strawberries and a layer of the cream cheese mixture. Repeat, using the remaining mixture and ingredients, ending with the cream cheese mixture. Store in the refrigerator until ready to serve.