Posted by Mandy on July 11th, 2011. Filed under:
Bacon
,
Grilling
,
Kids Can Help
,
Main Dishes
,
Quick & Easy Weeknight Meals
,
Sandwiches
.
A sandwich is just a sandwich, right? WRONG! Not in my opinion at least. Take a couple pieces of bread, throw on some mayonnaise and meat and you have a run of the mill sandwich. Bleh! That doesn't sound appetizing to anyone, except of course my five-year-old that would live off of turkey sandwiches if I'd allow her to. But if you take a more specialized bread, lay on the meat and cheese, and grill that baby, you have an entirely new thing! And that thing is entirely an irrestible thing to me. Although I use a grill pan and grill press to make my paninis, you don't have to have any special equipment. You just need something heavy to flatten the sandwich (even a brick wrapped in foil will work) while it's cooking so that it grills well. These have become a regular in our household, and my kids (along with my hubby, who hates sandwiches for the most part) love these!
Oh, and the panini pictured below was made for me (I prefer less meat) but you feel free to add more meat if you'd like. My hubby likes me to pile it on his!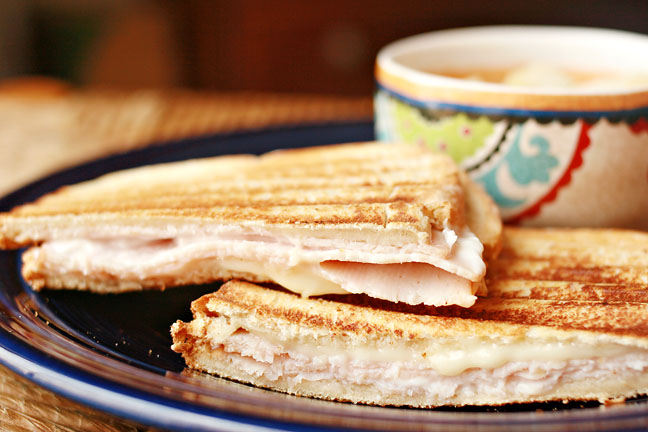 Turkey & Ham Panini
sliced sourdough bread
sliced Swiss cheese
spray butter
sliced, cooked bacon (optional)
deli sliced honey ham & smoked turkey, however much you prefer
desired sandwich fixings (mayonnaise, mustard, lettuce, tomato, etc.)
Heat grill pan (or panini press) over medium-high. Place desired amount of turkey, ham, bacon, and Swiss on sourdough slices. Place second slice of bread on top. Spread each side of the bread with butter or spray with butter spray. Place on the grill pan and top with a panini press (or brick covered in foil). Grill over medium-high heat until heated through and cheese is melted. Remove from heat and dress as desired, taking panini apart to do so and reassembling. Serve warm.