Posted by Mandy on June 29th, 2011. Filed under:
Brownies
,
Chocolate
,
Cookies & Bars
,
Desserts
,
Kids Can Help
,
Snacks
.
A while back I was looking at my blog and felt ashamed. Here I am writing a recipe blog and I don't even bake homemade brownies. The box mixes are so easy, inexpensive, and delicious that I never really saw the point with bothering to make homemade ones. But who am I calling myself  The Supermom Chef and yet never making homemade brownies. I decided right then to set out to find a recipe that my family loves just as much (or even more!) than the boxed kind. This recipe fits the bill perfectly! They are super easy to make, use items that I regularly keep in stock in my cupboard, make a 9×13″ pan of brownies (because let's face it, an 8×8″ size pan of brownies won't last any time with a family of 5!) and are deliciously fudgy with the perfectly crackled top like all perfect brownies have. There are different ways that you can change up the flavor. Try substituting dark, bittersweet, or milk chocolate for the semi-sweet, cut back or add sugar to your taste, etc. The list goes on and on! This particular version is my family's favorite, but feel free to add whatever your family's favorite add-ins are (chocolate chips, nuts, etc.) to make it your very own.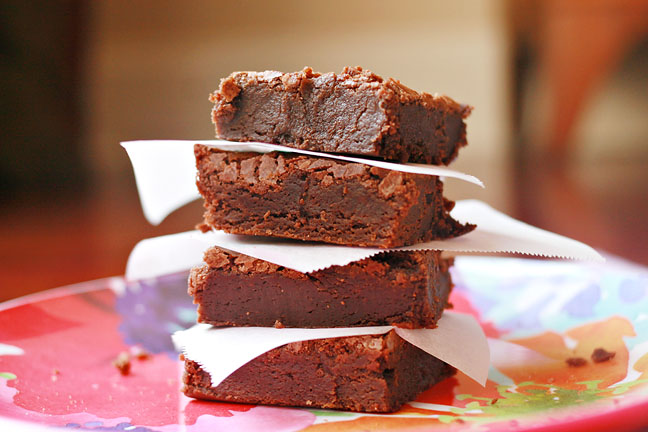 There's that crackly top that makes a perfect brownie! Can you see it???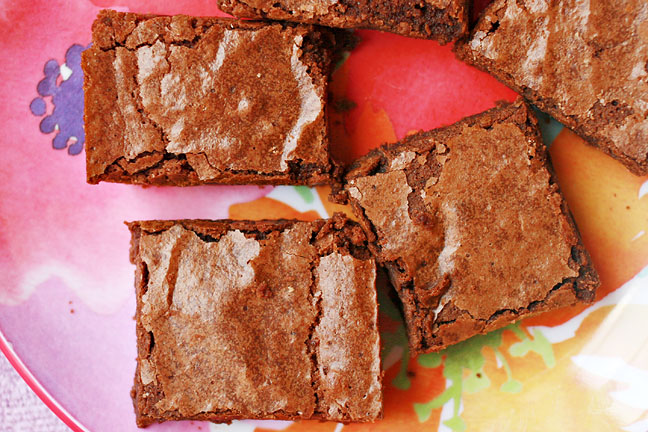 Brownies
1 (12 oz) bag semi-sweet chocolate chips
1 cup butter (2 sticks)
1 3/4 cups sugar
1 teaspoon vanilla
4 large eggs, at room temperature
1 1/2 cups all-purpose flour
1/2 teaspoon salt
Preheat oven to 350 degrees F. In a medium saucepan over low heat, melt butter and chocolate chips. Stir constantly and remove from heat when chips are fully melted. In the same pot, blend in the sugar and vanilla. Then add eggs, blending fully one at a time. Add flour and salt and beat until air bubbles form in the batter. Pour into a greased 9×13″ pan. Bake for 20 minutes. Reduce heat to  325 degrees F and bake for 15 more minutes, or until done.
Recipe adapted from: http://www.melskitchencafe.com/2008/09/easiest-brownies-in-the-world.html