Posted by Mandy on June 3rd, 2011. Filed under:
Appetizers
,
Beef
,
Main Dishes
,
Pasta
,
Quick & Easy Weeknight Meals
,
Sauce
,
Slow Cooker
.
This recipe comes to you from my…well, I'm not really sure what to call her! She was once married to my cousin and although they have been divorced for quite some time, she still remains in contact with our family and we just can't get rid of her. Just kidding, Tammy, we love you! Anyway, I was talking to her about what to fix for a party the other day and she said she could fix her meatballs. She went on about how easy they were and yet still delicious, how you could serve them as an appetizer or over noodles for a main dish. Thank goodness she was kind enough to share her recipe! I made these last night for my family, and although I have lots of other things to blog I felt that these should take first-post rankings because my family enjoyed them so much.
Now I know some of you in the food-blog world are very anti "cream of whatever soup", but I'll be honest with you. I use "cream of" soups quite often because (a) I'm from the South and that's pretty much mandatory (b) it's cheap (c) it tastes good (d) it makes for easy meals. So don't hate me for posting this if you are that type person please.

The recipe that I'm posting is how I actually prepared my meatballs. I have a family of five with kids ranging in age from 2-6, so it was plenty for my family. If you have a larger family, though, you may feel the need to double the recipe.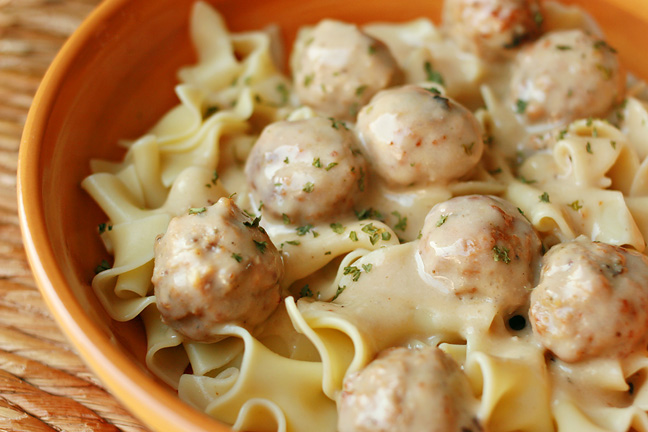 Tammy's Meatballs
1 pound frozen Italian meatballs
1 can cream of mushroom soup
1/4 cup sour cream
1 cup water
1 beef bullion cube
1 can sliced mushroom, drained (optional)
garlic powder, to taste
pepper, to taste
1 package noodles
Prepare noodles according to package directions; set aside and keep warm. Pour meatballs into a medium-size saucepan with a small amount of water; cook over medium heat until meatballs are heated through, stirring often. Drain water. Add soup, water, bullion cube, mushrooms (if using) and sour cream; season to taste with garlic powder and pepper. Simmer over medium-low heat until the sauce is well combined and heated through. Serve over warm noodles. Top with parsley, if desired.
Note: Tammy's original recipe calls to dump the sour cream, cream of mushroom soup, mushrooms (if using), pepper, and garlic salt in a slow cooker with the meatballs (still frozen); cook until meatballs are heated through. I was preparing my family's dinner at the end of the day, though, and didn't have time to cook mine in the slow cooker. If using this method, you will not need to use the water and beef bullion to flavor and thin the sauce.