Posted by Mandy on May 18th, 2011. Filed under:
Main Dishes
,
Pasta
,
Quick & Easy Weeknight Meals
,
Side Dishes
,
Vegetables
.
What a weird name for a recipe, huh? This recipe is a Supermomchef original, and came to mind one night when I had been to Sam's earlier in the day and picked up all the regular items I get there, including a rotisserie chicken and a huge bag of broccoli florets. The chicken was of course going to be for dinner (best $5 you can spend these days, in my opinion) but I had no idea what to cook to go along with it. Then I thought of the broccoli I had purchased and knowing that I always have plenty of pasta on hand I decided to make something using that. Added some seasoning, a little olive oil and butter, and BAM! There's dinner in no time! Hopefully your kids will actually eat the broccoli rather than just push it to the side of the plate. I've converted my hubby to a broccoli lover and I'm bound and determined to do it to my kids too!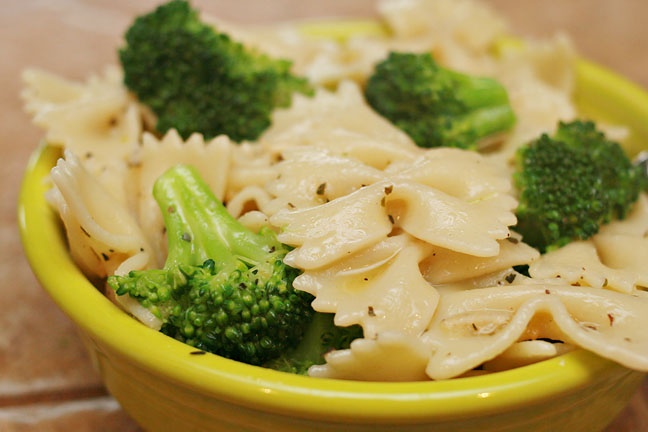 Bowties & Broccoli
1 (8 oz) package pasta (whatever shape you like best)
1 1/2 cups broccoli florets
1 teaspoon Italian seasoning
1 tablespoon extra virgin olive oil
2 tablespoons butter or margarine
salt and pepper, to taste
Cook pasta according to package directions, making sure to salt the water. About two minutes before the pasta is completely cooked, add the broccoli; continue cooking until the broccoli is crisp and bright green. Drain and toss with remaining ingredients. Serve hot. We like to add some chopped, cooked rotisserie chicken from the deli to the pasta also to make it a whole meal.