Posted by Mandy on April 4th, 2011. Filed under:
Appetizers
,
Dips
,
Southern Classics
.
Does this photo entice you to look further? Yummy, cheesy goodness at it's best is lying just ahead for you!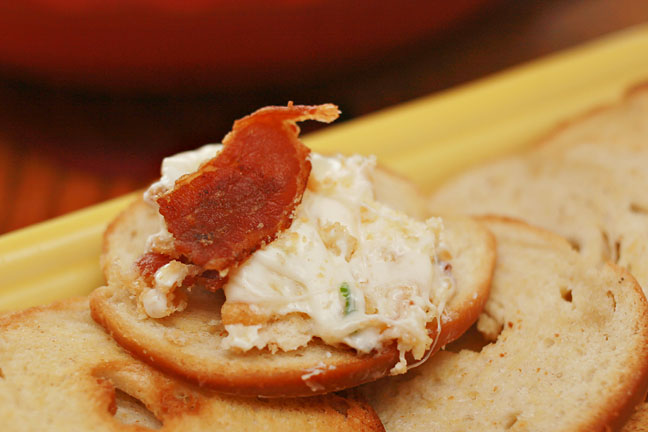 I've seen this dip in every single community cookbook I've ever purchased, and with good reason…it's absolutely delicious and one of the easiest things to make! I first tried a similar version of this dip at a work party about 6 years ago, and was immediately blown away with how delicious it was. Then when I asked for the recipe, I was again blown away that it didn't require more ingredients to make. My hubby doesn't say much when it comes to food, but I can always tell if it's something he likes because of the amount that he eats. The first time I made this, I think he ate almost the entire dish himself although I'm sure I couldn't get him to agree with me on that if I asked him. You can serve this with whatever you choose, but I like to serve mine with Wheat Thins (we like the Reduced Fat variety) or bagel chips. I also use light mayonnaise and reduced fat (Neufchatel) cream cheese in mine as well as it's just as delicious as the real deal to me. Then again, serving bacon and cracker crumbs baked onto top of cheese, cheese, more cheese, and a little mayonnaise isn't really healthy no matter what you substitute so you just feel free to use whatever you choose. I'll stick to my light ingredients and make myself believe I'm cutting back on the calories, even though I can't seem to stop myself from shoving more of this cheesy, ooey gooey goodness into my big mouth!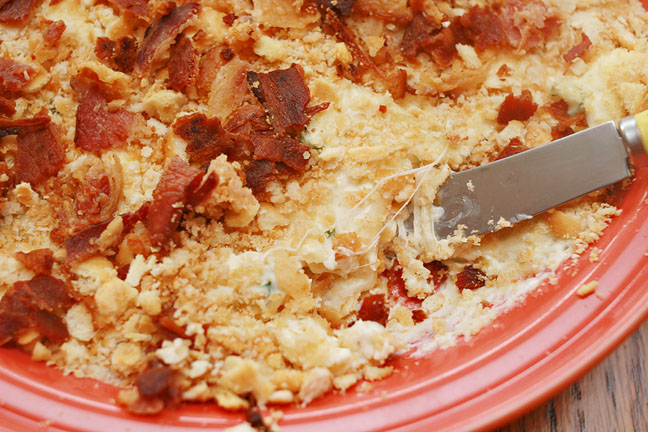 Cheesy Ritz Dip
1 (8 oz) package cream cheese, softened
2 tablepoons finely chopped green onions
1/2 cup mayonnaise
1 cup grated Swiss cheese
8 slices bacon, cooked & crumbled
1/2 cup crushed Ritz crackers
Preheat oven to 350 degrees F. In a medium mixing bowl, stir together cream cheese, mayonnaise, Swiss cheese, and green onions. Spread into baking dish (pie plate works well). Top with cracker crumbs and bacon. Bake for 15-20 minutes, or until hot and bubbly. Serve warm with wheat crackers or bagel chips.