Posted by Mandy on October 15th, 2010. Filed under:
Appetizers
,
Breads
,
Kids Can Help
.
This recipe is one that I kind of made up myself. There is a local bakery here that makes something called Pepperoni Bread, and it's absolutely delicious. Being on a budget with three kids, one of whom requires numerous surgeries a year done halfway across country, I find it very difficult to spend $8 or more on a loaf of bread that will only last a few minutes. It makes me feel awful though because the kids love their pepperoni bread so much. So I set out on a mission to come up with something similar so that they could enjoy themselves without breaking the bank. I originally started making this as a loaf of bread, but this time when I made it I rolled the dough out too far and ended up with a loaf of dough too long to fit into a loaf pan. That's when I decided that cutting the bread up, cinnamon roll style, would make cute little pepperoni rolls for serving as appetizers. I don't have to say how good this is, because the photos and recipe will speak for itself. I made these late in the afternoon with my kids a couple weeks ago, and when I went to wrap them up to store for a later day I saw that there were only two rolls left. Matt had eaten only one of them and I had gotten none, the kids had devoured the rest of the pan themselves!
Start by taking a loaf of frozen bread dough and following the directions on the package to thaw it out. Before it starts to rise, sprinkle a pastry mat (or your kitchen counter, I have tile and find it difficult to work with dough without it getting into the grout) with plenty of flour. Roll out the dough with a rolling pin until it's a large rectangle. Okay, truth be told, it's a lot more difficult to roll dough out into a rectangle that cookbooks like to tell you…but this is what mine looked like. Once the dough is rolled out, spread it with either melted butter or spray it with the kind in a spray bottle. Sprinkle it with some Italian seasoning, Mozzarella cheese, and then top with pepperonis, much like you would a pizza. And yes, those are my little angels helping me bake. If I'm in the kitchen, chances are they are most likely in there with me so you guys will probably be seeing a lot of photos with their little arms in them.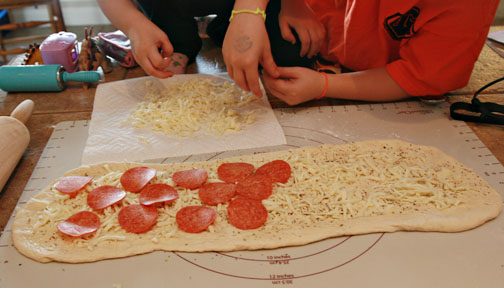 Next roll up the bread cinnamon roll style, so that you end up with one long loaf of bread. Cut across the loaf so that you end up with pieces that are about 1.5″ thick. Place them into a baking dish that has been sprayed with cooking spray so that they don't stick.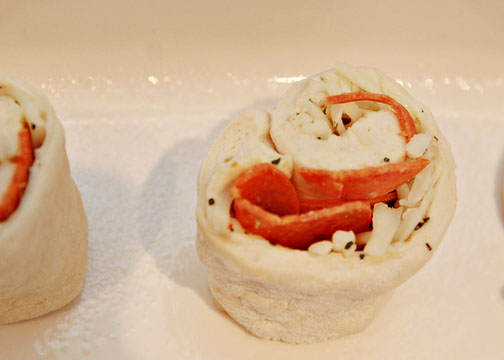 Let them rise until they are "doubled in size"…what the heck does that mean anyway? I love yeast breads and make them all the time but hate seeing this in a recipe because I don't have a clue in heck what they are talking about. So I just let them rise until they are the size that I think they should be.

I think these rose for about 1 hour after the above picture was taken.
Speaking of…did you know that you can rise yeast breads in your oven? Personally, my favorite place during the summertime is outside in the garage because living in Missisippi we definitely have enough heat to rise breads. But when it's not summer I just turn my oven onto it's lowest setting (175 degrees I think) and then turn that baby right back off. Stick the dough in there and it rises just right. Technically you are supposed to rise yeast dough in a place around 85 degrees but this has always worked for me so why change things?
So now that your dough has risen, plop it in a 350 degree oven and bake until golden brown, like this photo.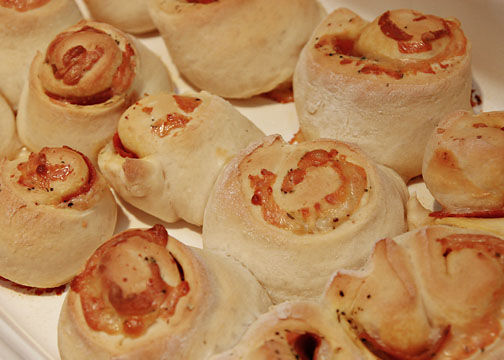 My kids like to eat theirs dipped into some warm pizza sauce. Yummy!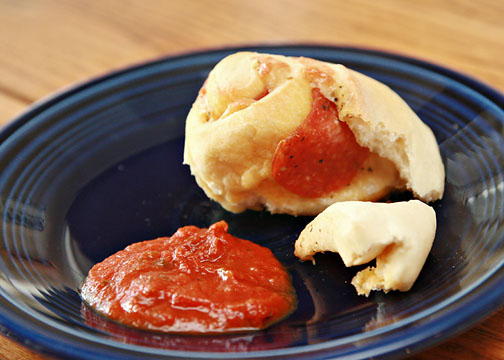 My guess is that your mouth is watering by now so I won't hold you up any longer. Head on out to the grocery store and pick up the ingredients, 'cause you won't be sorry!
Pepperoni Rolls
1 loaf frozen bread dough
shredded Mozzarella cheese
Pepperonis
Italian seasoning
butter or spray butter
Prepare dough for handling by following instructions on the package for thawing. Spread dough out onto a floured surface and roll out to a large rectangle. Either spread with melted butter or spray with butter spray. Sprinkle lightly with Italian seasoning and Mozzarella cheese. Top with pepperoni slices. Roll up, cinnamon roll style, into a long loaf. Cut the loaf into pieces about 1.5″ thick. Put pieces, cut side down, into a baking dish sprayed with nonstick spray. Allow to rise in a warm place until doubled in size. Bake at 350 degrees until golden brown. Serve warm with pizza sauce, if desired.