Posted by Mandy on March 11th, 2011. Filed under:
Appetizers
,
Dips
,
Kids Can Help
.
Let me just admit this and get it over with. I'm a green olive addict. If there were a Olive Overeaters Anonymous program somewhere, I'd need to be the first person in line to sign up. I love it so much that I can eat them just straight out of the jar…and I love them so much that I have turned my daughter into an olive overeater too. She's even worse than me, though. She'll even drink olive juice right out of the jar! Now I won't lie and say I've never done it before, but I don't do it regularly like she does.
And on a completely different note, I'm also a corn dip addict. No matter where I am, if I see a corn dip I absolutely have to taste it! I've tried about a gazillion different corn dip recipes and love every last one of them. This is one I came up with the other night on the spur of the moment. I was throwing together some sandwiches for dinner and really wanted a dip to go along with it. I was craving olives and corn dip so naturally just thought to throw them all together and make a dip. Boy am I glad that I did because this dip is delicious! Not knowing whether or not it was going to be any good, I didn't take progressive photos along the way. But I also don't want ya'll to have to wait for me to make it again before posting the recipe, so you'll just have to go by the recipe strictly on this one. I think you'll be okay, though. Just dump a few cans together, stir in some creamy goodness, and enjoy!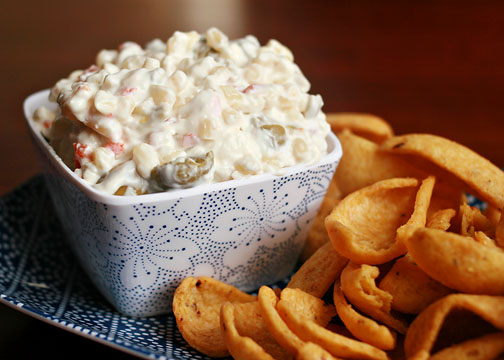 Corn & Green Olive Dip
2 tablespoons mayonnaise
1 (8 oz) package cream cheese
1 (11 oz) can shoepeg corn, drained
1/2 – 3/4 cup green salad olives (more or less, depending on your taste)
2 tablespoons olive juice
Mix all ingredients together until well combined. Store chilled and serve with corn chips or tortilla chips.
Note: Light mayonnaise and neufchatel cheese can be substituted for the cream cheese and mayonnaise, if desired.