Posted by Mandy on February 18th, 2011. Filed under:
Main Dishes
,
Pork
,
Quick & Easy Weeknight Meals
,
Slow Cooker
,
Southern Classics
,
Uncategorized
.
Raise your hand if you are the type of cook that likes to just throw a couple of items in a pot, turn the button to on, and walk away knowing you'll come back to a delicious, home cooked meal? ME ME ME! Don't get me wrong, I am one of those people that absolutely LOVES to cook too, but some days I just don't feel up to it. Those are the days that I go back to this staple in my cookbook. Every single time I make this delicious pork, the kids stand beside me begging for samples as I'm shredding the pork. It's THAT good! This would be the perfect meal to drop in the crock pot, go to work, and come home to knowing your whole family will love it! I can't even begin to describe how tender it is, you just have to try it for yourself to be sure.

Yep, only need three little items. Trying to go low-cal these days? Substituting diet drinks work just as well!
Pour the BBQ sauce and soft drink into a medium-sized crock pot or slow cooker.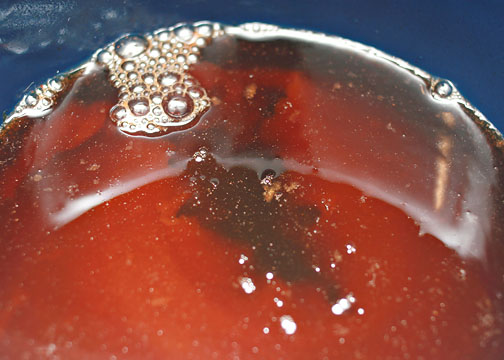 Whisk 'em together for a second or two to combine.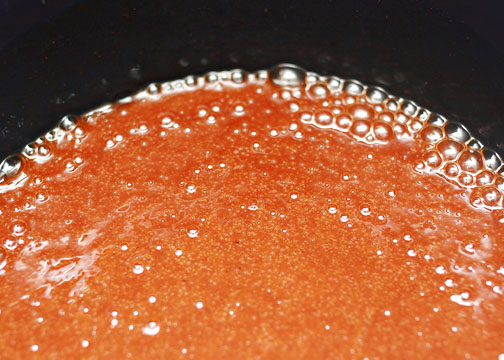 Cut the netting off the pork, and drop it right into the mixture. Turn over once, so that it's all coated.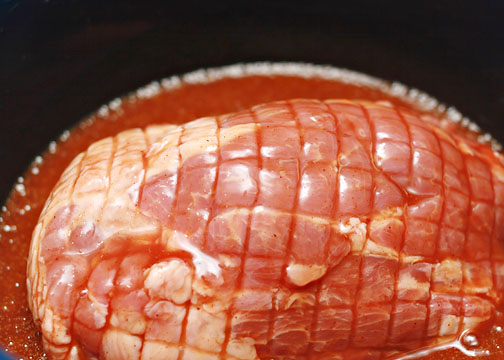 Set that slow cooker to "HIGH" and go do your thing (whatever that may be) for 8 hours. Come back home to this delicious stuff!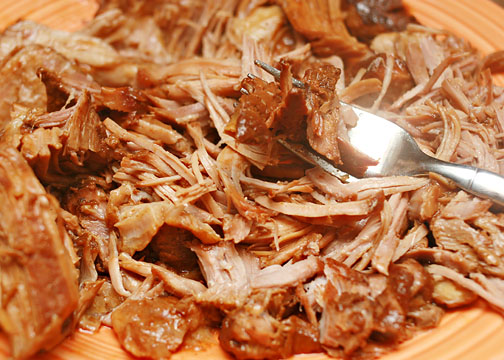 When you go to take the pork out, it's so tender it basically shreds itself. Or you can help it along by using a fork like I did above. Toast some buns, and serve as sandwiches if that's what you like. We do!
Crock Pot Pulled Pork
1 (3-4 lb.) pork shoulder roast
1 (18 oz) bottle Barbecue sauce
1 (12 oz) can cola flavored soft drink
In a medium sized slow cooker, add barbecue sauce and soft drink. Whisk together until well combined. Add pork, turning to coat all over with barbecue sauce. Cover and cook on HIGH 8 hours or until meat is tender and shreds easily. Serve on warmed hamburger buns, if desired.
Note: It seems like the barbecue flavor tends to cook out of the sauce by the end of the eight hours, so I usually remove the pork, serve on buns, and top with fresh barbecue sauce from the bottle.