Posted by Mandy on February 7th, 2011. Filed under:
Chocolate
,
Cookies & Bars
,
Desserts
,
Kids Can Help
.
I am probably the world's BIGGEST chocolate chip cookie fan on the planet. I could literally live off of them, and I go into withdrawals if I go longer than a couple days without one. Due to this serious addiction of mine, I'm always making fresh cookies (from scratch, of course) to ease the cravings and sharing my yummy goodies with everyone. Well, recently my mom was diagnosed with a disease that gets worse if you eat chocolate…OHMYGOODNESS I would die! But being the sweet, lovely, perfect, adoring daughter that I am *wink, wink* I came up with this recipe and made her some yummy White Chocolate Macadamia Nut Cookies to eat while I was eat my traditional chocolate chip ones. Yep, I did say I made her "white chocolate cookies", but before you want to think I'm just being hateful, you should know that the white chocolate is actually okay to eat because white chocolate, believe it or not, isn't actually chocolate at all. That's right! So she can eat all of these that she wants and not have to worry about all those awful dizzy spells! She loved them and I'm sure that you will too!
Yada, yada, yada…you know the drill! Get out your ingredients people and fire up your ovens!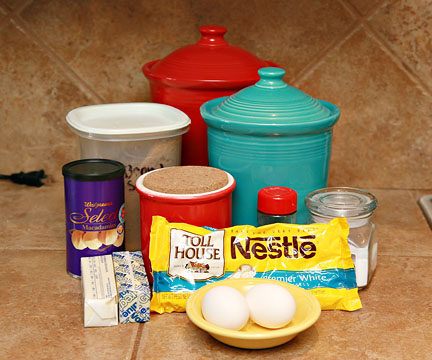 Melt the butter, and allow to cool slightly. In a mixer fitted with the paddle attachment, mix butter and both sugars until smooth.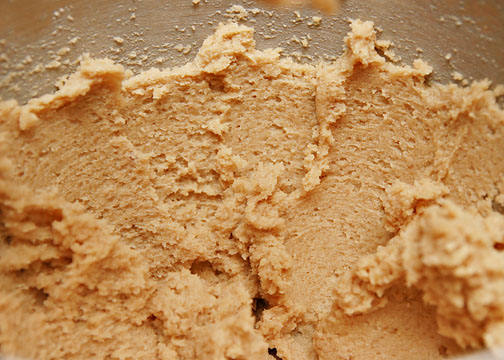 Blend in egg, egg yolk, and vanilla. Be sure to stop every so often and scrape down the sides of the bowl.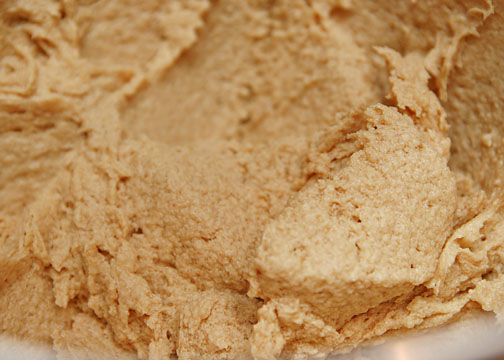 Slowly mix in the dry ingredients, careful not to spray the entire kitchen with flour.

Remove the mixing bowl and stir in the macadamia nuts and white chocolate chips by hand.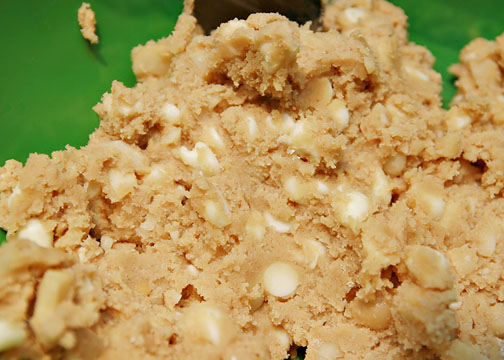 If you absolutely, positively cannot stand it, you can bake your cookies at this point. But by refrigerating the dough, you'll allow your dough time to firm up some and therefore they won't spread as much while baking. Either way you go, they're gonna be delicious though! I bake mine on parchment paper lined baking sheets until they look ALMOST done.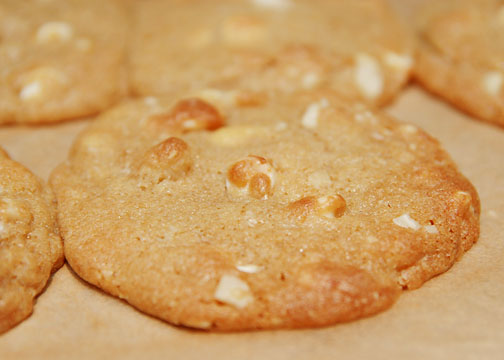 Then I take them out and allow them to sit on the baking sheet for about 3-4 minutes to finish baking. Remove to a cooling rack to finish cooling.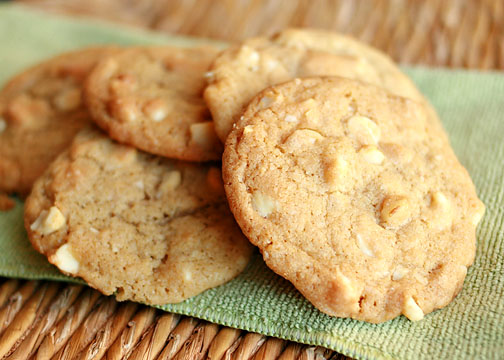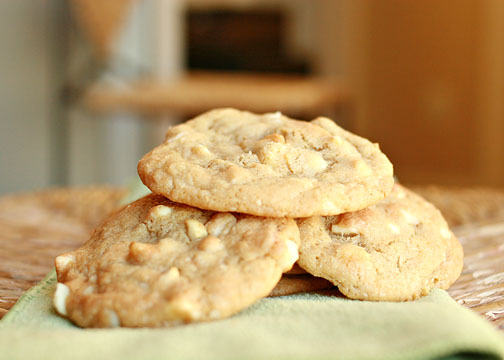 White Chocolate Macadamia Nut Cookies
2 sticks butter
1 cup brown sugar
1/2 cup granulated sugar
1 whole egg
1 egg yolk
2 teaspoons vanilla
3/4 teaspoon baking soda
1/2 teaspoon salt
2 1/2 cup all-purpose flour
1 (12 oz) bag white chocolate chips
1 1/2 cups chopped macadamia nuts
Preheat oven to 375 degrees F. Melt butter and allow to cool. In a stand mixer fitted with the paddle attachment, mix together butter and both sugars until smooth. Add the egg, yolk, and vanilla until well combined. Be sure to stop and scrape the sides often so that all ingredients are mixed well. Gradually add the dry ingredients until the mixture is completely mixed and smooth. Remove bowl from mixer, and by hand, stir in the white chocolate chips and macadamia nuts until they are distributed throughout the entire dough. Refrigerate for 30 minutes. Scoop the dough onto the cookie sheet with a cookie or ice cream scoop and bake until ALMOST done. Remove from oven and allow to rest on the cookie sheet for 3-4 minutes, then remove to a cooling rack. Serve warm or room temperature.