Posted by Mandy on February 5th, 2011. Filed under:
Appetizers
,
Dips
,
Mexican
.
This recipe is yet another that is somewhat of a mixture of several recipes that I liked, but I kicked them up another level by adding my own twists. This is probably one of my absolutely FAVORITE dips of all time. No traditional Mexican layered dip comes close to the flavor that you get out of this yummy recipe. And what better time to post this delicious treat than at the Super Bowl? If any recipe fits my criteria for being Super Bowl-friendly, this is it! I'll be making this dip on Sunday for our family that is coming over to watch the game. Will you?
Oh, and yet again I only have a final photograph instead of progressive photos. I made this dip at rush-hour when I was also preparing dinner as well, and with three kids up under my feet. I ended up with so few photos that I decided it would be silly to just post the couple of photos I had so this is what you're stuck with for today. I promise to do better next time!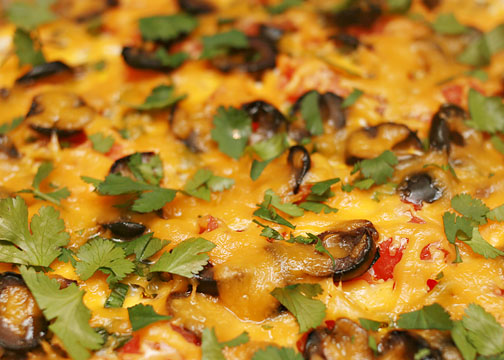 Don't you wanna taste of this cheese goodness?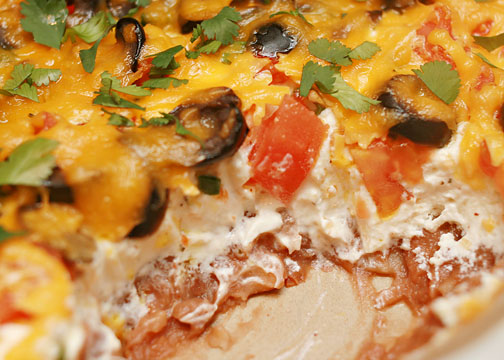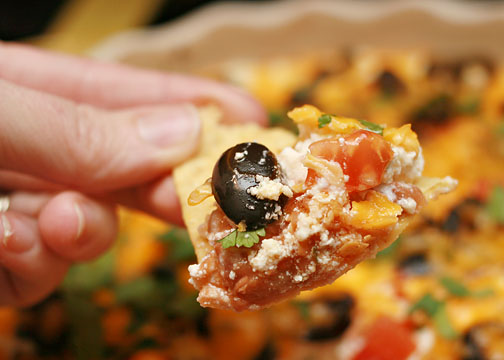 Layered Tex-Mex Dip
1 (16 oz) can refried beans
1 (8 oz) package cream cheese
1 cup sour cream
2 tablespoons taco seasoning
1 tablespoon fresh lime juice
1 garlic clove, pressed
1 cup shredded Cheddar cheese (freshly grated is best)
1 small can sliced black olives, drained
1 Roma tomato, seeded & chopped
2 green onions, sliced (green parts only)
snipped fresh Cilantro, to taste
Preheat oven to 350 degrees F. Using a spatula, spread refried beans over the bottom of a medium-sized baking dish. In a separate bowl, combine cream cheese, sour cream, garlic, taco seasoning, and lime juice. Spread evenly on top of beans. Top with a layer of olives, tomatoes, and green onions. Sprinkle the cheese on top. Bake for about 10-15 minutes, or until hot and bubbly. Sprinkle with freshly snipped Cilantro and serve warm with tortilla chips.
Recipe adapted from two Pampered Chef recipes, Touchdown Taco Dip and Chili Verde Dip