Posted by Mandy on February 1st, 2011. Filed under:
Appetizers
,
Dips
.
We all know the big game is coming up this weekend, so I thought another dip recipe would be most appropriate for today's post. Recipes for Jalapeno Popper Dip are floating all over the internet right now, but I have never found a recipe that suits my taste just right. So I put together all of the things that I liked about each recipe and came up with my own version of this ever-so-popular dip. What better time of year to make this dip than for the superbowl? Everyone loves jalapeno poppers but they are such a pain to make so this is my version of an easier, but still delicious substitute.
Last year was the best Super Bowl ever, in my opinion. My husband has been a Saint's fan since back in the day when they were awful. He even had season tickets at one point, so seeing his team go so far and do so well was wonderful! This year is such a let-down because none of our favorite teams made it to the big game, but I know we'll still be watching. I'll be serving this dip, what 'bout you?
Oh, and I don't have progressive photos of this recipe because I made it for my daughter's birthday party this past weekend and was in such a hurry that I only have a final photo. Forgive me please.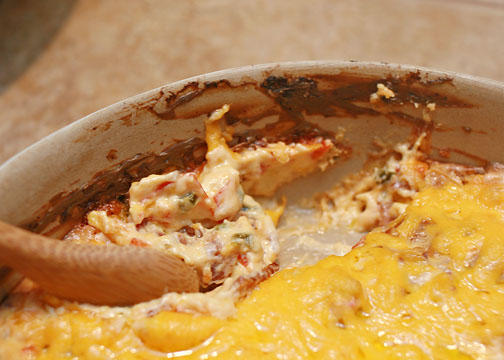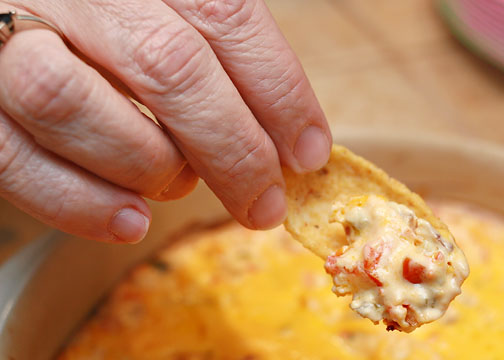 Jalapeno Popper Dip
6 slices bacon
1 red bell pepper, chopped
3 jalapeno poppers, seeded & chopped (or more, if you like)
1 (8 oz) block cream cheese, softened
1 1/2 cups Cheddar cheese, shredded
Preheat oven to 350 degrees F. Slice bacon into small pieces, and saute over medium-high heat until crispy. Place on paper towels to drain and cool. Meanwhile, using one tablespoon of the remaining bacon grease, saute bell pepper and jalapeno pepper until tender. In a medium bowl, mix cream cheese, 1 cup Cheddar cheese, bacon, and peppers. Spread into a small baking dish. Top with the remaining Cheddar cheese, and bake until hot and bubbly; serve with corn chips.