Posted by Mandy on January 10th, 2011. Filed under:
Chicken
,
Fried Foods
,
Main Dishes
,
Southern Classics
,
Uncategorized
.
As the mother of three children, I try to introduce as many different and healthy meals into my kid's diet as possible. But no matter what I try, they'll never like anything at all quite like they do fried chicken tenders. We don't eat out anymore much (only once in the last two months), but when we did we would always ask the kids where they'd like to go. I'm not really sure why we ever bothered because no matter where they choose, they always chose the same items off the menu…chicken strips. So I guess my point is that every mom needs a handy, standby recipe for good ole kid-pleasin' chicken strips. This one can be yours now!
You probably already have these items on hand.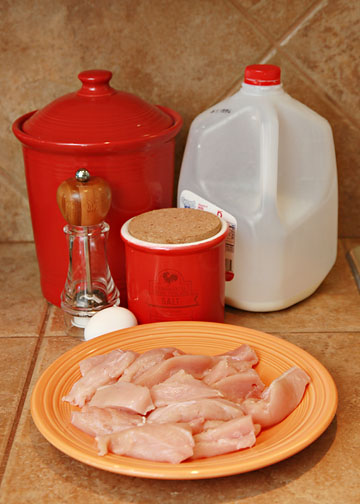 I usually like to use chicken tenders, but sent my sister to the store to pick the chicken up for this recipe. She said the tenders looked yuck at the store so she chose breasts instead and we just cut them into small pieces.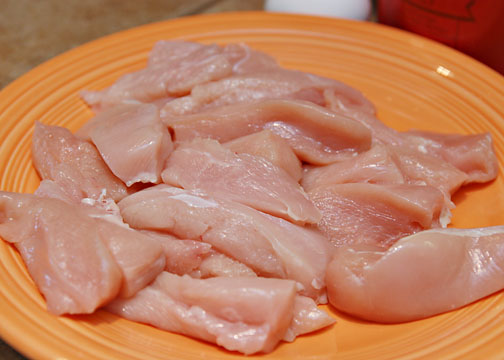 Heat your oil appropriately. I use a deep fryer that has settings on the side of it, and just set mine to the chicken setting. According to my fryer, the oil should be somewhere around 356 degrees F. Pay no attention to the setting I had it on for this photo…I cooked french fries (recipe to come later) to go along with the strips and had already changed the setting by the time I remembered to photograph the fryer.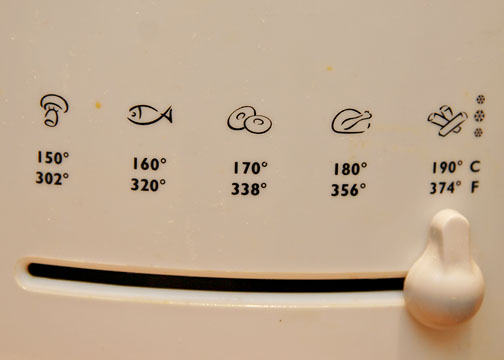 Pour about 2 cups flour, 1 teaspoon salt, and 1/2 teaspoon black pepper into a small, shallow dish. In another dish about the same size, pour your milk and egg. Mix until well combined. Sprinkle the chicken pieces with salt and pepper…we forgot this step and you could tell. The chicken didn't have enough flavor. Start by dunking the chicken into the flour mixture, making sure to cover the chicken entirely. Then dip the chicken into the wet mixture, followed by another dunk in the flour mixture.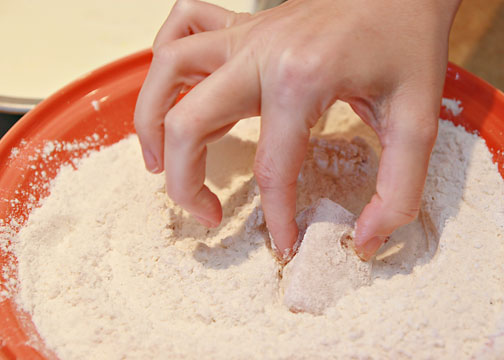 Place on a plate or dish until your oil has risen to the appropriate temperature.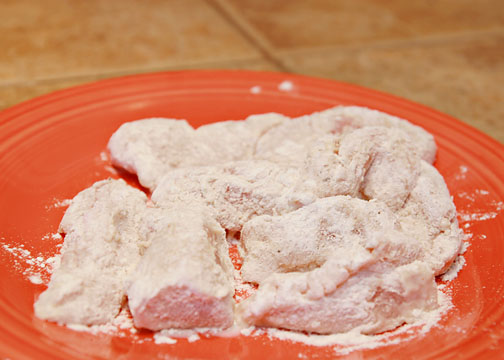 Drop individually into the hot oil, careful not to overcrowd the oil. Trust me, you don't want to put too many in there at one time. That's a recipe for disaster (and nasty chicken).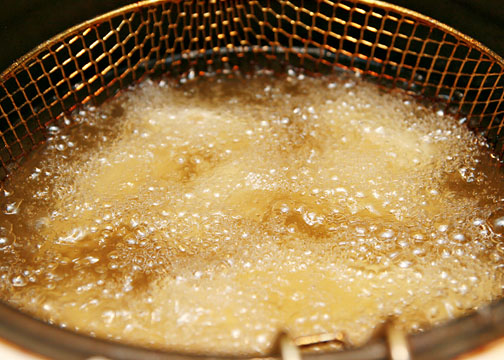 Give the basket (if you are using a fryer) a shake every few minutes so that the tenders don't stick. Remove from the hot oil (being extremely careful…hot oil burns BAD!) and place onto a plate that is double lined with paper towels. This will help to drain off some of the excess oil/grease. If you'd like you can check the temperature of the tenders with a meat thermometer, but I'm and old fashioned kind of girl. I just use the old "floats when it's done" test.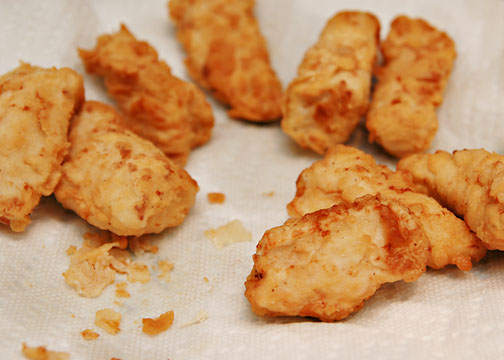 Serve hot to lots of hungry little kids…then you will be proclaimed the "Best chef in the whole wide world!" Or at least that's what my kids say! I like to eat mine the grown-up way, served along side some Comeback Dressing for dipping. One of life's little pleasures of being a Southerner!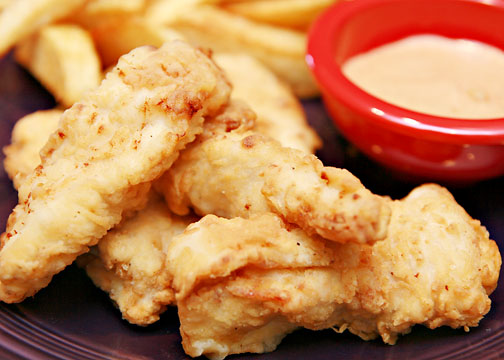 Classic Fried Chicken Tenders
1 pound chicken tenders
2 cups all-purpose flour
1 teaspoon seasoned salt
1/2 teaspoon black pepper
1 egg, beaten
1 1/2 cups milk
additional salt & pepper, for sprinkling
Heat oil to about 356 degrees F. Meanwhile, place flour, salt, and pepper in a small shallow dish. Mix well to combine. In another small, shallow dish place milk and eggs. Mix this well to combine. Sprinkle salt and pepper over chicken pieces. Dip chicken into the flour mixture, immediately into the wet mixture, followed by another dip into the flour mixture. Place on a platter until your oil rises to the appropriate temperature. Drop chicken tenders/pieces individually into the hot oil, being careful not to overcrowd your pan or fryer. Allow to cook until the chicken floats in the hot oil. If you'd like, you can use a meat thermometer to test the chicken to ensure it's cooked through fully. Remove from oil and allow to rest a few minutes on a double paper towel-lined plate, allowing the excess oil to drain off. Serve hot with preferred dipping sauce.