Posted by Mandy on December 20th, 2010. Filed under:
Candies
,
Chocolate
,
Desserts
,
Holiday Favorites
.
Call this candy what you like, I simply call it crack because it's just that dang addictive! If you are a salty/sweet combo person, you are going to LOVE this treat. I am simply powerless when it comes to resisting this dessert. Yesterday when I was making it my husband came home and asked me to leave the chocolate off some for him. He's not a big chocolate person…WHACKO! He immediately dove into them and enjoyed himself. I'm telling you, they are simply irrestible! Quick and delicious, what a perfect combo!
Our star players: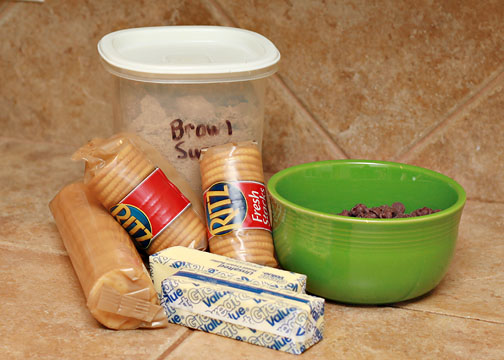 Start by grabbing a sheet pan and lining it with foil (so you'll have an easy cleanup job). Spray the foil with non-stick cooking spray and spread a layer of Ritz crackers. It's okay if they overlap.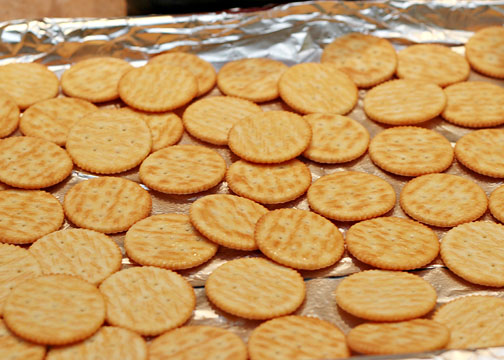 Meanwhile, cook the brown sugar and butter over medium-high until boiling. Once boiling, cook for about 3-4 minutes until super hot and bubbly.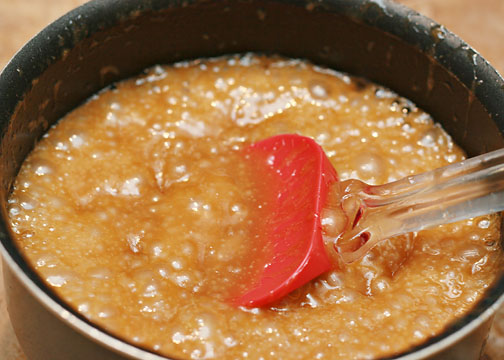 Pour over the crackers.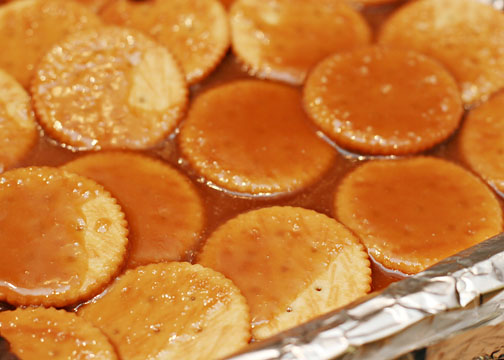 Pop in the oven for about 5 minutes. Remove and sprinkle with the chocolate. Allow the chocolate to sit for about 5 minutes or until soft. Spread with a knife over the entire pan. See my husband's itty bitty corner over there on the far right with no chocolate?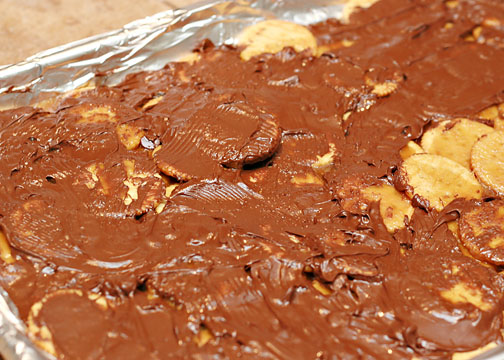 Put the entire pan in the fridge for a couple hours to allow it to harden and then break into pieces. Store in the fridge. And check out this beautiful dish! My sweet best friend gave this to me for Christmas!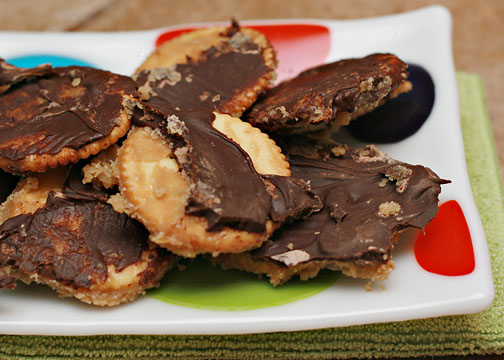 Ritz Cracker Candy
1 cup butter
1 cup brown sugar
2 sleeves Ritz crackers (the full size ones)
chocolate chips (you can use either semi-sweet or milk chocolate)
Preheat oven to 350 degrees. Cover a sheet pan with aluminum foil. Spray with non-stick cooking spray. Layer the Ritz crackers flat on the sheet pan. Meanwhile, cook the butter and brown sugar over medium-high heat until boiling. Allow mixture to boil for 3-4 minutes. Pour mixture over the crackers and bake for 5 minutes. Immediately after removing from the oven, sprinkle the chocolate chips over the crackers. Allow to sit for 5 minutes (this gives it time to melt somewhat). Spread the chocolate over the crackers. Refrigerate for 4 hours, or until hardened. Remove and break into pieces. Return to refrigerator for storage.