Posted by Mandy on November 10th, 2010. Filed under:
Beef
,
Main Dishes
,
Soups & Stews
.
I never realized just how easy chili was until I decided to make my own one day when I didn't have any of the packets of chili seasoning. I have always just used the packets because I assumed I'd need a thousand spices that would just cost extra money and take up room in my spice cabinet. That couldn't be any further from the truth! The ingredients that you need to make a delicious homemade chili could very well be hiding in your cabinet as well! For this recipe, I just kind of threw things together and didn't photograph as I was going because I wasn't sure how it would turn out. I wish now that I'd have taken photos along the way so I'd have more than just the finished product to show you all. I really can't say how easy this chili was, but I can say that if you try it you won't be disappointed. This chili is especially good for picky eaters who don't like "chunks" (aka tomatoes, onions, peppers, etc.) in their food. Those type of people are abundant in my house. *rolls eyes* I threw this all together in a matter of minutes and just let it simmer throughout the afternoon. Serve with some hot cornbread…we made homemade Mexican cornbread to eat with ours. I'll be sure to share that recipe at a later date. In the meantime, make this tonight and your family is sure to enjoy it!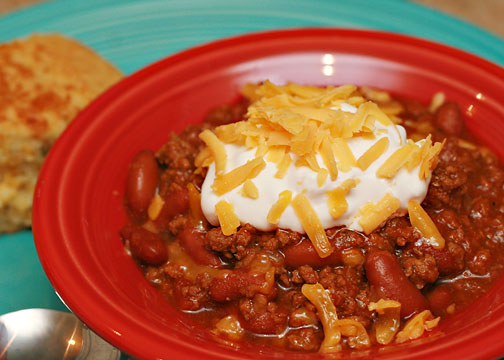 Homemade Chili
2 pounds ground beef (I like to use lean but feel free to use whatever you prefer)
1 onion, chopped very fine
3 cups water
3 beef bullion cubes
1 teaspoon oregano
2 tablespoons chili powder
1 1/2 teaspoons salt
1/2 teaspoon black pepper
1 teaspoon cumin
1 (6 oz) can tomato paste
1 can kidney beans (dark or light), drained
In a large Dutch oven, brown the ground beef and onion; drain to remove an excess fat. Return the beef to the Dutch oven and add the water, beef bullion, tomato paste, oregano, chili powder, salt, black pepper, cumin, and beans. Simmer on low for a while (I like to simmer at least an hour or two for the best flavor). Serve hot with any toppings of your choice including cheddar cheese, sour cream, and chopped onions.