Posted by Mandy on November 8th, 2012. Filed under:
Main Dishes
,
Pasta
,
Quick & Easy Weeknight Meals
,
Soups & Stews
.
My, it's been a long time since I've posted. I seem to say that a lot, don't I? Well, at least I have a good excuse. We have been trying to sell our house for two years now, but have been actively preparing for this move for almost three years. And we have finally sold it, thank goodness! We are supposed to close on our house on November 20 so everything has to be out by then. The only catch is that we are buying my in-laws house, and their new house isn't quite ready yet.
And that's not it, you may remember my son's health issues that I've mentioned before. Well, these days he's in the wheelchair about 85% of the time so he is almost completely reliant on me for everything. And I've had some recent health issues myself and I will be having surgery on the 29th of this month. Throw being in charge of making 25+ apple cakes for my dad's annual holiday gift-giving for his business, and I've had quite a lot on my hands. Not trying to make excuses, but just want you to understand where I'm coming from.
The good news is that once I get moved into my new house, it will have a much bigger kitchen. So I'll no longer have an excuse for my children to be eating popcorn or ramen noodles for dinner like we seem to be doing every night lately. That's when the real cooking will begin! I can't wait to finally get back in the kitchen and prepare my family a decent meal! It's been far too long.
So today I have a new recipe for you, and it's a good one. But let me warn you…don't be stupid like me (having gallbladder issues) and eat this for dinner late one night. I was up ALL NIGHT LONG hurting! But if you're healthy, like I was just a few weeks ago, go right ahead. It's delicious, easy, and something to warm you and your family up on these cold fall nights.
Oh, and this recipe came about as a result of having some leftover Italian sausage and not knowing what to do with it. I knew I wanted to make a creamy soup, but didn't know just what. So I googled, found a similar recipe, and heavily adapted it to make this yummy soup. Serve it with garlic bread and you'll have a happy family like I did.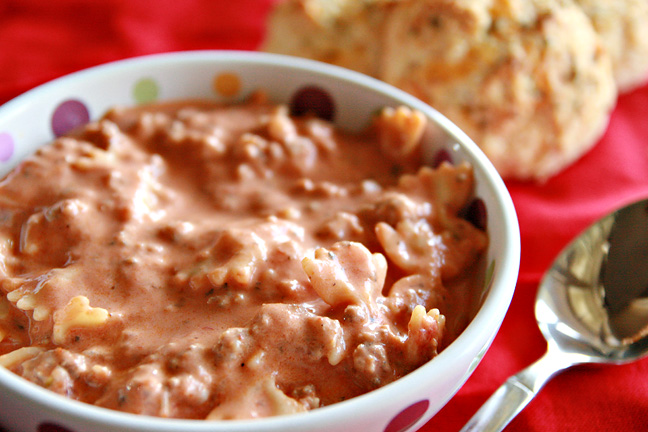 Creamy Tomato & Sausage Soup
1 small onion, chopped
2 cloves garlic, chopped
2 teaspoons olive oil
1 1/2 pounds Italian sausage (hot, sweet, or a combination of both)
1 jar of your favorite spaghetti sauce
2 cups beef broth
salt & pepper, to taste
1/2 teaspoon dried basil
1-2 cups half & half (depending on how creamy you like your soup)
1 cup mini pasta (I used mini bow-ties)
fresh shredded Parmesan cheese for garnish, if desired
Cook the pasta in boiling water according to package directions. Meanwhile, in a large Dutch oven or stockpot over medium heat, brown sausage with onion in olive oil until sausage is cooked through. Add garlic and cook for 2 minutes, or until fragrant. Drain the sausage mixture, if needed. Return the sausage mixture to the skillet and add the remaining ingredients, including the cooked pasta. Top with fresh shredded Parmesan cheese, if desired.
Recipe adapted from: http://picky-palate.com/2009/03/26/creamy-tomato-basil-and-italian-sausage/