Posted by Mandy on September 18th, 2012. Filed under:
Appetizers
,
Brunch
,
Main Dishes
,
Pasta
,
Quick & Easy Weeknight Meals
,
Soups & Stews
,
Vegetables
.
Happy 200th Blog Post to The Supermom Chef (that's me)! Can you believe that I've posted that many recipes for all of you? Well, give or take a few posts that are Round-Up posts about certain themes (Christmas, Thanksgiving, Super Bowl, etc.). Take a moment and congratulate me if you stop by so that I'll know you've been a reader! I love hearing from my readers via the comment section!
On another note, maaaaaaaannnnn does it feel good outside today! We had a "cold front" come through yesterday and because of that our weather today is unseasonably cool. Goodness how I love days like this! It's currently 77 degrees outside as I type this and my kids are running around in the backyard in light jackets. I'm ready for the cold weather to come. Once school starts, I am so over the heat and ready for Halloween. My favorite time of year is from Halloween until the day after New Year's. I love everything about fall! Football, the chill in the air, the beautiful colors! I just can't get enough!
So because of our first official cool weather today, I'm posting a cool weather-type recipe. Chilly air makes me crave soup. Don't get me wrong I still eat my fair share of soup in the summer, but nothing is quite as comforting on a chilly day as soup is. It warms you from the inside out. This is one of my particularly favorite soups. It's even good for those people who claim not to like tomatoes but will eat things like ketchup and salsa. Basically, they just don't like the chunks of tomatoes so this is perfect for folks like that. In that case, feel free to leave out the chopped sun dried tomatoes but add a little of the oil in there because it gives the soup so much flavor. Me? I like tomatoes no matter how you serve 'em up and this soup is no exception. Oh, and it's super easy and makes a ton!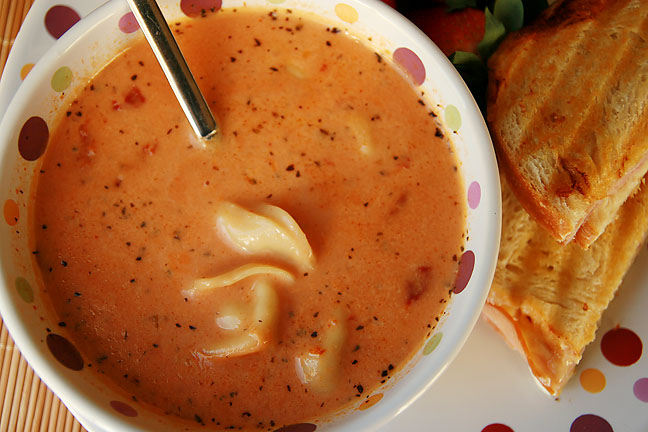 Creamy Tomato Tortellini Soup
1  (9 oz) package refrigerated cheese tortellini
2 cans (10-3/4 oz each) condensed tomato soup, undiluted
4 cups broth (vegetable or chicken)
1 cup milk
2 cups half and half
1/2 cup chopped oil-packed sun-dried tomatoes
1 teaspoon onion powder
1 teaspoon garlic powder
1 teaspoon dried basil
1/2 teaspoon salt
1/2 cup freshly shredded Parmesan cheese
additional shredded Parmesan cheese for garnish, if desired
Prepare the tortellini according to package directions. Meanwhile, in a stock pot, combine the soup, broth, milk, half-and-half, tomatoes, and seasonings. Heat through, stirring frequently. Drain tortellini ; carefully add to soup. Stir in 1/2 cup Parmesan cheese. Sprinkle each serving with additional Parmesan cheese, if desired. Serves 6-8.
Recipe adapted from: http://realmomkitchen.com/8651/creamy-tomato-tortellini-soup/