Posted by Mandy on April 24th, 2012. Filed under:
Appetizers
,
Birthday Party Ideas
,
Brunch
,
Cheesecakes
,
Desserts
,
Dips
,
Fruit Desserts
,
Kids Can Help
,
Snacks
,
This & That
.
There are some people out there that always mention this blog and how much they use it every time they see me. A sweet friend of mine, Leslie, is one of those people. She always makes it a point to tell me how useful she finds the site and how many times she uses my recipes. Comments like that make my day! So much work goes into writing this blog, shopping for and preparing ingredients, making the goodies, photographing the goodies, post-processing the photos, writing and posting the updates. It's a labor of love for sure, but as long as I know folks are finding the site useful I have promised to keep up the extra work. Thank you, Leslie for always being so kind about the site. I hope some others of you out there are finding the site as useful as Leslie says she does.

Now, onto Leslie's delicious recipe she shared with me. CARAMEL. APPLE. DIP. Need I say more? Who doesn't love caramel apples? And who doesn't love cream cheese, powdered sugar, and vanilla? Nobody that I know of (and if you don't like them, don't tell me because I'll judge you right then and there). I made this dip a couple months ago for a gathering for my daughter's birthday and everyone went crazy over it! It was gone within minutes and I wished I had doubled the recipe because everyone kept asking for more. This one is sure to please!
P.S. Forgot to mention…the instructions that Leslie gave me were taken down quickly in the notes app on my phone during passing at the local Chinese restaurant. I didn't do a very good job of writing it all down so these may not be her exact instructions but you can't mess it up. If all else fails, mix it all together and serve it in a bowl like I did.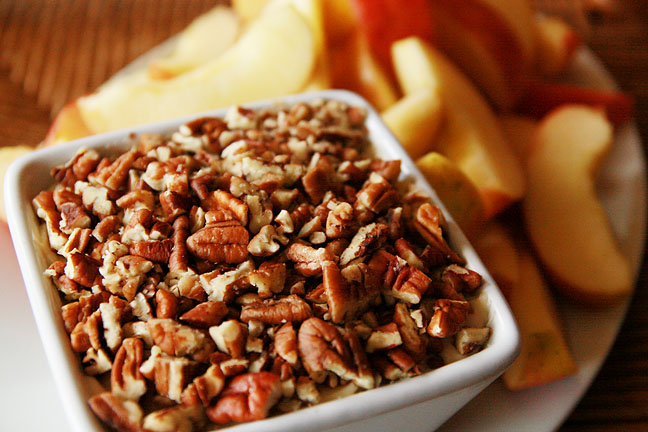 Caramel Apple Dip
2 (8 oz) blocks cream cheese, softened
1 1/2 cups powdered sugar
1 teaspoon vanilla
chopped pecans, however much you desire
*sliced granny smith apples
1 container Marietta's caramel dip (found in the produce section of most supermarkets)
Mix together cream cheese, vanilla, and powdered sugar until well combined. Wrap in plastic wrap and roll into a ball; refrigerate until firm. Place into a large bowl and mold the ball to fit the bowl, pressing out a bowl-shaped hole in the middle of the cream cheese mixture. Pour the caramel into the hole (you may not need the entire package); sprinkle generously with chopped pecans. Serve with sliced apples for dipping.
Please note that in the photo above I did not assemble my dip in the way mentioned in the recipe. I simple put the cream cheese mixture into the bottom of a bowl, poured a generous layer of caramel over the mixture and spread evenly, then topped with chopped pecans.
*Note: I use a product called "Fruit Fresh" to keep my apples from browning before serving. Just sprinkle a little over them in a plastic bag and shake to coat.