Posted by Mandy on March 5th, 2012. Filed under:
Chocolate
,
Cookies & Bars
,
Desserts
,
Gifts from the Kitchen
,
Kids Can Help
,
Snacks
.
Geez louise does life ever get so nuts when my hubby is away! He's gone for 6 weeks at a time to his job in Alaska now and I'm here to tell ya…taking care of a house and three kids all by yourself is quite the job. I barely have time to do anything these days! I'm either cooking, cleaning, running errands, or taking care of kids. It never ends! So my list of "to try" recipes isn't getting much knocked off of it these days, to say the least. I barely find time to cook what has to be cooked, much less something that I just want to try for fun.
Anyway, enough of that whining. I did find time to make something for you a couple weeks ago that I know you'll love. This recipe came from my sweet friend in Boston, Lizz. My husband and I met Lizz and her hubby in the waiting room of Children's Hospital Boston. Both of our kiddos were having surgery on the same day and since we were sitting closely, we naturally just began chatting away. We've been friends ever since that day almost 4 years ago! Lizz and her sweet, sweet boy "Baby Noah" as my 7-year old affectionately calls him, brought us these yummy cookies during one of our many trips to the hospital. Boy oh boy was I in heaven! Being stuck in the hospital for a month straight with a child that could not have anything by mouth (not even ice chips!) was really getting to me. I'd have to head downstairs to the cafeteria and scarf down my meals quickly then head back to the hospital room to care for him. I must say that these cookies made that dark time a little brighter and gave me something to look forward to with each trip to the cafeteria. It was like my kryptonite at the time! I'm thankful for having found a great friendship in Lizz and Bryan, and just as thankful for having this recipe that she shared with me.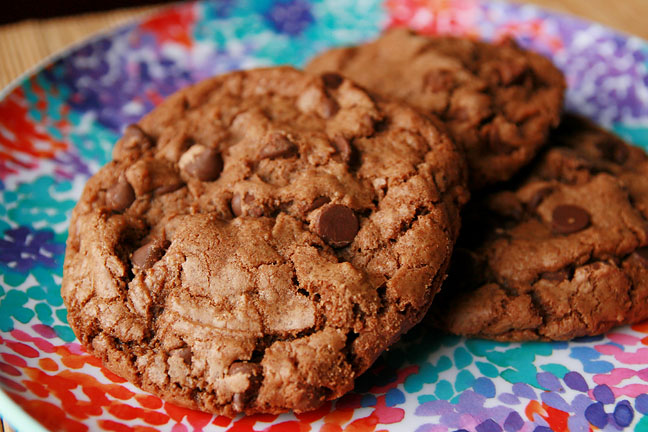 Lizz's Double Chocolate Cookies
2 cups all-purpose flour
1/4 cup unsweetened cocoa
1/2 teaspoon baking soda
1/2 teaspoon salt
3/4 cup unsalted butter, melted
1 cup packed brown sugar
1/2 cup granulated sugar
1 tablespoon vanilla extract
1 egg
1 egg yolk
2 cups semi-sweet chocolate chips
Preheat oven to 325 degrees F. Grease cookie sheets or line with parchment paper. Sift together the flour, cocoa powder, baking soda, and salt; set aside. In a medium bowl, cream together the melted butter, brown sugar, and white sugar until well blended. Beat in the vanilla, egg, and egg yolk until light and creamy. Mix in the sifted ingredients until just blended. Stir in the chocolate chips by hand using a wooden spoon. Drop cookie dough 1/4 cup at a time onto the prepared cookie sheets, placing about 3″ apart. Bake for 15-17 minutes in the preheated oven, or until the edges are lightly toasted. Cool on baking sheets for a few minutes before transferring to wire racks to cool completely.